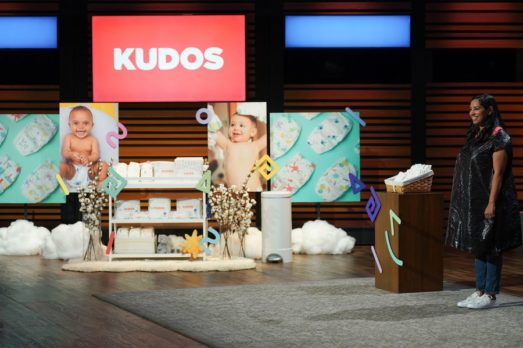 Amrita Saigal pitches Kudos, her cotton disposable diapers, in Shark Tank episode 1410. Amrita, along with team members Jim Keighley and Moira Finicane (who do not appear in the Tank) run the business together. Jim worked in the diaper manufacturing business for many of his 40 years at Proctor and Gamble. Moira studied marketing and business at Harvard and MIT and Amrita got her engineering degree at MIT. Amrita is a proponent of "elegant sustainability," a concept that believes sustainable products should look and perform better than their non sustainable counterparts. Her first project was making sanitary pads in India out of banana leaf fibers.
Kudos diapers, unlike the market dominating Huggies and Pampers (which make up over 80% of the market), are made out of cotton. Huggies and Pampers are almost entirely plastic and take hundreds of years to decompose. Diapers take up 4% of landfill space in the USA. While there is still a little plastic in Kudos – the absorbent polymer pad for absorption – the company claims replacing "regular" disposable diapers with Kudos would save 500 million pounds of plastic going into landfills.
While there is still some plastic in Kudos, the company is moving toward a 100% plastic free model. Manufactured in Germany, the company started marketing direct to consumers in 2021. They had things set to go earlier, but supply chain issues related to the Covid-19 pandemic set them back. The most important feature about Kudos is nothing but cotton touches your baby's butt, which helps prevent diaper rash. A box of 216 diapers costs $88 or 41 cents per diaper; if you opt for the monthly subscription option, the cost goes down to 36 cents per diaper. By contrast, Huggies cost 31 cents per diaper while some bargain brand diapers cost as little as 7 cents per diaper. Disposable diapers are a $71 billion per year industry and Amrita wants to disrupt that market. A Shark would be a big help.
Company Information
Video

Posts about Kudos on Shark Tank Blog
Kudos Diapers – Sustainable Diapers
Kudos Shark Tank Recap
Amrita enters the Shark Tank seeking $250,000 for 5% equity in her company. She says most disposable diapers are made from plastic meaning babies spend 2-3 years wrapped in plastic. This doesn't let their butts breathe and diapers are the third largest contributor to landfills. She introduces Kudos, her diapers where babies butts touch 100% all natural cotton. Doctors recommend cotton for rashes and eczema and her customers like that the diapers are all natural and sustainable. The diapers have a patented system that uses two absorption layers instead of one.
The Sharks examine their samples. Lori says they're thinner and softer than regular disposable diapers. Gwyneth asks about Amrita's background. She comes from a family of engineers. She went to MIT to get a degree in mechanical engineering then went on to Harvard for an MBA. Out of college, she got a job as a manufacturing engineer at Proctor and Gamble where she saw first hand how much plastic goes into sanitary pads and diapers. She quit that job and went to India to made biodegradable sanitary pads out of banana tree fiber. After exiting that business, she moved back to the USA and her friends were having babies.
She knew there was a better way to make disposable diapers. She now has a 12 week baby of her own. her daughter is her biggest diaper tester! Amrita says she got the call from a Shark Tank producer while she was in the delivery room.  As a new mom, she wants the cleanest ingredients touching her baby's skin.
Sales for the first year in business were $850,000, 100% direct to consumer. So far, she's raised $3.2 million on a $12.5 million valuation. Since starting the business, she's lost $1.5 million. They expect to be profitable next year (2023) with $4.5 million in sales. A one time purchase of a pack of diapers is $88 and if you sibscribe they're $78. In the eco-friendly diaper space they are on par with other products. Kudos are 25%-50% more than standard disposable diapers. Landed cost is $39 which Mark says isn't a lot of margin. Amrita tells him they've spent less than $100,000 in marketing in the first year. Customer acquisition cost is $23.
Mark asks where she'll be in five years. Amrita says diapers are just the begining – her baby wipes just launched three weeks ago. Training pants and swim pants are next. After that, she'll tackle the adult diaper market. Kevin wants to know why a Proctor and Gamble wouldn't develop their own eco friendly diaper. Mark wants to know what Amrita wants. She says she wants Kudos to be a household name: the product is good and parents love it. Mark asks Gwyneth if she likes the product. She does and she gets it. Mark and Gwyneth offer $250,000 for 12%. Amrita counters with 8% and Mark says they'd do 10%. Amrita askes if they'd split 3% advisory shares and 7% equity and they do the deal.
Kudos Shark Tank Update
The Shark Tank Blog constantly provides updates and follow-ups about entrepreneurs who have appeared on the Shark Tank TV show. As of June, 2023, 6 months after the original air date, the deal with the Sharks has not closed.  It appears they are well on their  way to hitting their $4.5 million revenue goal for 2023.
The Shark Tank Blog will follow-up on Kudos & Amrita Saigal as more details become available.