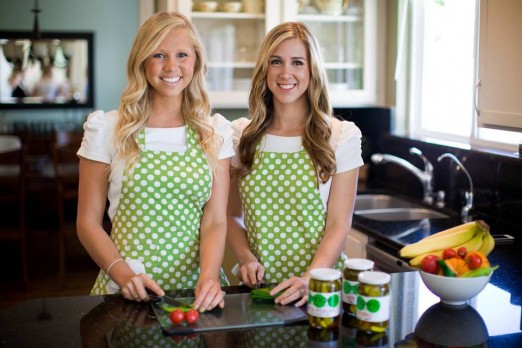 Lynnae's Gourmet Pickles entrepreneurs Lynnae Schneller and Aly Cullinane from Tacoma, Washington try to pickle the Sharks in the season 5 premeire episode 505. The young ladies use Lynnae's great grandmother's gourmet pickle recipe. The "business" started when Lynnae learned "great grandma Toots'" recipe and began preparing pickles for family and friends. Like many other food businesses that started in a home kitchen, someone said, "you should sell these;" Lynnae did just that! With the help of her friend (and now business partner), Aly, they started making pickles in a trailer converted into a commercial kitchen. The young women sold over 1,000 jars their first week in business! Since the recipe is a family secret, Aly had to marry Lynnae's brother to "join the clan" and be privy to Grandma Toots' secret recipe! (They were engaged before the business launched)
Lynnae's Gourmet Pickles  Shark Tank Recap
Lynnae Schneller and Ali Cullinane come into the Shark Tank seeking a $125,00 stake in return for 25% of their company, Lynnae's Gourmet Pickles. With $144,000 in sales, and talks on the table with Target, the business has carved a healthy niche in the market. Schneller and Cullinane have even set up a "Pickle Run" contest in their city that garnered national attention and news coverage. The pair are creative and dedicated, but is their business big enough to attract a Shark?
Who's In?
Mark Cuban believes the large companies in the industry have not yet taken notice of Lynnae's Gourmet Pickles because they haven't yet acquired a large enough market share to be a threat. When they expand beyond their current cottage-industry size, he believes a competitor will introduce a similar product and simply drive them out of business with a lower price point. He's out.
Lori Greiner doesn't like sweet pickles. She's out.
Kevin O'Leary agrees with Cuban's evaluation. He decides that he doesn't want "pickles as a part of my portfolio." He's out.
Only Barbara Corcoran and Robert Herjavec remain. Herjavec can't get past the $6.99 price tag per jar. Like Lori Greiner, he's not a fan of sweet pickles. He's out.
Corcoran tells the pair that "I don't think you need a partner." She believes the pair will succeed on their own and would regret selling a portion of their business too early for too little. She's out, and the Lynnae's Gourmet Pickles ladies leave the Tank with no Shark deal.
Lynnae's Gourmet Pickles Shark Tank Update
Although Lynnae's Gourmet Pickles didn't pucker the Sharks into opening their wallets, the ladies have had no trouble keeping their business moving forward. They've had talks with several major retail chains, including Costco. The pickles found homes in Piggly Wiggly, Papa Joe's, Akins, and many other small supermarket chains across the country, taking the product to a national scale.
Some say the "proof is in the pudding," but for these two plucky entrepreneurs, it seems that their success is found in a 100 year old recipe and a pickle jar.
In 2015, Lynnae left the company to open a Chic-Filet franchise. Aly rebranded the company to Mrs. Pickles Gourmet. That business shut down in January, 2018. Aly is now the director of Marine View Christian Preschool.
Posts About Lynnae's Gourmet Pickles on Shark Tank Blog
Lynnae's Gourmet Pickles Information