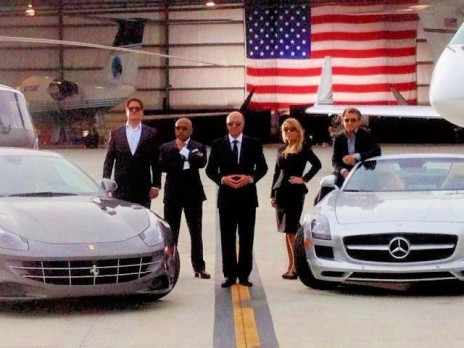 Episode 505, originally airing on September 27, 2013 at 9PM EST, is the second new show in the much anticipated season 5. In this episode, all 5 Sharks will team up to offer an entrepreneur a $1 million investment! Which business receives the million dollar offer and will they accept it?
Mango Mango is a mango based jelly/preserve presented by party planners and "foodtrepreneurs" Lakesha Brown-Renfro, Nzinga Teule-Hekima, and Tanecia Willis. The three partners will shimmy and shake their way into the Shark Tank while extolling the benefits of their Mango based products that are good spreads on toast and great recipe boosters. Charles Michael Yim, Founder & CEO of Breathometer, shows the Sharks how his smart phone breathalizer app can make millions and prevent tragic drunk driving accidents at the same time. Jim O'Brien introduces his business that started with a joke between he and his wife. It's called Man Medals and it's a fun way for a woman to "reward" her man for doing chores around the house. There's also a "canine fashion" business that features a pooch wearing a tuxedo.
Follow up segments featuring past Shark Tank success stories are a regular feature on Shark Tank.  Episode 505 updates fans on Lani Lazzari, the 18-year-old business whiz kid who scored a deal for Simple Sugars in season four, episode 419.
There are 24 Shark Tank Episodes for Season 5. This season features two new Sharks and a host of other surprises. Casting is currently closed, but it never hurts to get a head start on season six! If you would like to appear on the show, check out our Auditions and Casting information.
Episode 505 – The Shark Investors and Entrepreneurs
The Shark Tank Episode 505 entrepreneurs will make their best pitch to the panel of five Shark investors who will use their own money if they choose to invest. The Shark Investors negotiate on the spot without any previous information, which differs from typical negotiations between venture capital investors and entrepreneurial start-ups.
Companies pitching the Shark Investors must go through a rigorous due diligence process before an on-air deal is completed. Shark Tank Blog follow ups help you keep track of the companies that end up successful and the ones that don't complete their deal.
Thank you for reading SharkTankBlog, the number one site for Entrepreneurs, Investors and Fans. Our content updates multiple times day, giving you the latest information on Episode 505, Season 5, and all other seasons and episodes.