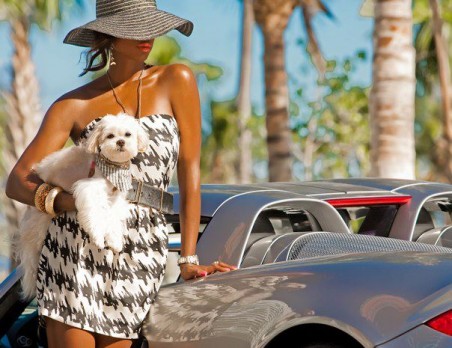 Amber Lee Forrester brings her fashion dog apparel business called Kane and Couture  into the Shark Tank in episode 505.  Amber developed Kane and Couture after completing The Workshop at Macy's, a retail vendor development program Macy's has for minority and/or women business owners to help them succeed and grow in the retail industry. She went to Fordham business school and worked in marketing before starting Kane and Couture back in 2009. The Detroit native has her fashion dog apparel in over 80 retail outlets that feature "high-end" dog apparel. She has an online store too and appears to be seeking the Shark's help with website development and accelerating her retail presence nationally. Kane and Couture has fashionable dog collars, leashes, dresses, and even hoodies for dogs.
Kane and Couture Shark Tank Recap
Amber comes in with her dog, Kane, a little pooch in a tuxedo, tucked into a carrying bag. Robert immediately says he's cute. Amber explains she's seeking $150K for 33% of her "canine lifestyle brand."  She says other similar products are boring and overpriced. Next,  a doggy fashion show ensues with two other dogs: one a small dog with a dress vest and another, larger dog with a fashion collar and leash.  Mark looks exasperated by the entire pitch. Kevin asks if the dog ever does his business in the carry-on bag.
Daymond and Robert each grab a small dog while Amber explains she's sold $90K in her first year. Amber claims she has orders for the holiday season and projects over $1.8million in sales. She's in Macy's and calls herself the FUBU for dogs. Kevin thinks dogs in a bowtie are insane. Amber explains she has pending orders from major retailers, but no hard orders.
Kevin can't wrap his arms around the concept or their valuation and goes out. Robert has a problem with the idea that Amber can go from 90K to 1.8 million, he's out. Lori likes the business because people love their pets and wants to partner with Daymond for $75K each for 40% of the company. Daymond thinks the $1.8 million is a bit of a stretch.
Mark, silent throughout, says he has no interest and he's out. Daymond goes in with Lori with a contingency that Amber provide them with opening orders of $400K. Amber asks if Lori and Daymond will provide purchase order financing for the first set of orders; Daymond says yes and they make a deal with Daymond and Lori investing $75K each for 40% of Kane and Couture.
Kane and Couture Shark Tank Update
While Forrester appeared to make a deal in the Shark Tank, there's no sign of Shark activity in her online presence now. Normally when entrepreneurs complete successful Shark deals, they flaunt their relationship with the investors. While there are numerous references to the deal Forrester struck on the show, and the contingency, there's none of the usual hype that accompanies an ongoing relationship. The deal with Lori and Daymond never closed.
Kane and Couture has benefited, however, from the exposure gained by the Shark Tank experience. The line has expanded and grown, and is now available through over 100 retail outlets across the country. It seems that, even without a completed Shark deal, this dog is having its day.
In 2017, she re-organized the entire business, but in January, 2019, she shut the company down. She now runs The Quartz Wellness Collective, a personal growth and development organization. She's also a Positive Education and Well Being Consultant and Trainer at the Harlem Children's Zone.
Posts About Kane and Couture on Shark Tank Blog
Kane and Couture Information