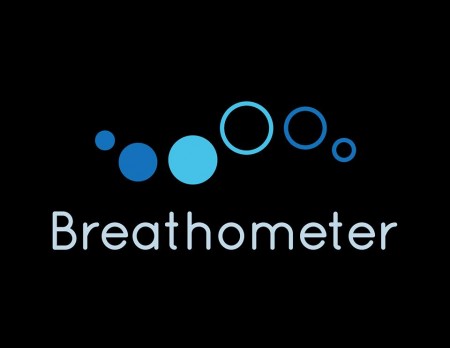 Charles Michael Yim, founder and CEO of Breathometer introduces the Sharks to his smart phone breathalyzer app in episode 505. The Breathometer is part app, part hardware: the app is needed to read the Breathometer breathalyzer which is a small, key fob designed to plug into a phone's headphone jack. By blowing into the Breathometer, the app reads your blood alcohol level. Yim claims the Breathometer is as reliable as any breathalyzer out there. People using the device will presumably make intelligent and informed choices when faced with the prospect of driving after having a few cocktails. The Breathometer can tell you if you're OK to drive or should take a cab. It is an app that has the potential to save countless lives and prevent drunk driving accidents and arrests. The app and hardware cost $49 on a "pre-order" basis and was supposed to be available to the public in the summer of 2013.
Breathometer Shark Tank Recap
Charles starts off asking for $250K for 10% of his business. Charles served the Sharks champagne, and asks if they're safe to drive. He compares the Breathometer to bulky personal breathalyzers. After explaining the features, he explains they launched in March after a successful Indiegogo campaign.
Mr. Wonderful has questions about liability, but Charles explains there's no substitute for good judgement. Lori tests the Breathometer and blows a .04 – legal to drive. Charles then explains he's working on a diabetes testing app using similar hardware and technology. He invested $50K of his own money, but needs more for producing product.
Sensing the opportunity, Mark immediately offers $500K for 20%. Lori wants to team with Mark and Mark says no. Mr. Wonderful offers $250K for 15% and Charles explains he wants a million dollar VC round in 60 days. Robert, Kevin, and Lori then team up to offer $750K for 30%. Daymond offers $250K for 10%  and unlimited manufacturing. Kevin then proposes all Sharks go in on the deal for $1 Million if Mark and Daymond will agree. Daymond says he's in if all 5 go in.
Charles says he'll give Mark the Lion's share and the Sharks ask him to counter. Charles says $300K from Mark and $700K from the rest. Mark says he'll go $500K for 15% with the other Sharks pitching in $500K for another 15% making the million dollar offer for 30%.
Charles calls his partner who has concerns about the valuation and the ability of the Sharks to work together. Back in the Tank, Charles accepts and, thankfully, the champagne is already open! Charles is happy to raise a million bucks from all five Sharks and says he's "ecstatic!"
Breathometer Shark Tank Update
The deal went forward, but only Mark put up the money. Breathometer gets an update segment in episode 529 in season five, just a few months after the original air date. In that episode, it was revealed Yim had problems fulfilling the thousands of orders the show produced, at least initially. They did $1 million in sales since its appearance on Shark Tank. They must be doing well, they get a second update in episode 604 in season 6!
In the episode 604 update, Yim shows off a new Bluetooth version of the Breathometer, called The Breeze. He developed the Breeze in the Cleveland Clinic's breath analysis lab. They're rolling out nationally in Brookstone and Best Buy. Kim had $1 million in sales in the first update. This year, the company will do $10 million!
At the 2016 Consumer Electronics show, Breathometer made some big announcements. Read the Update here.
The company is featured in Beyond the Tank episode 207. Read a full recap and update HERE.
In January, 2017, Breathometer was required to offer refunds for its devices sold between 2013 and 2015 as part of a settlement with the Federal Trade Commission (FTC).  According to the FTC's findings, Breathometer's devices would regularly understate BAC levels—a fact the company was fully aware of. Despite this, Breathometer opted to not inform its users of the issue and continued marketing and selling its devices.
"People relied on the defendant's products to decide whether it was safe to get behind the wheel," Jessica Rich, the director of the FTC's Bureau of Consumer Protection, said in a statement. "Overstating the accuracy of the devices was deceptive — and dangerous."
The company continues to develop its Mint devices that analyze a users oral health. The breathalyzer app is no longer available. As of August, 2021, they are still in business with annual revenue of $1 million. In July, 2022, Mark Cuban claimed he lost his million dollar investment in this business. As of August, 2023, the products are no longer available. Yim claims the  company was acquired, but there is no reliable evidence this is so.
Posts About Breathometer on Shark Tank Blog
Breathometer Information
Video