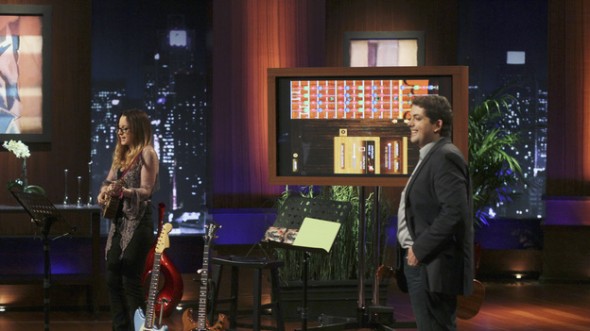 Miso Music entrepreneur Aviv Grill brought his well capitalized and innovative iPad App to the Shark Tank in episode 309. The Miso Music App teaches people how to play guitar, or any other stringed instrument, right on their iPad. Prior to jumping in the Shark Tank, Grill and his board of directors were able to secure $3 million in funding, $600K of that from Google Ventures, prior to appearing on the show. Grill describes the Miso Music App as "Guitar Hero with real notes, real instruments, and real learning." Aviv demonstrated the App, but in order to give the Sharks a better idea of its full functionality, he had musician Ingrid Michaelson demonstrate with an iPad.
Miso Music in the Shark Tank
Aviv came into the Shark Tank seeking $300k for a 5% share of the Miso Music parent company, Miso Media – an educational software developer. While Ingrid Michaelson wowed the Sharks with her musical acumen, Grill explained the benefits of the App. It's designed to teach people how to play string instruments; there is even an adapter cable available that allows users to connect their instrument to their iPad and use the App! As of taping, the Miso Music App was downloaded for free over 80,000 times. The "big play" is to use the App as a gateway to sell sheet music.
Daymond thinks Aviv doesn't really want to do a deal, so he's out. Barbara doesn't like investing in Apps, so she's out too. Mr. Wonderful offers $100k for 3.33% and asks the other Sharks to jump in with him for the remainder. Robert offers $300K for 10% and Aviv counters with 7%; Robert goes out. After some negotiations, Mark offers $300K for 8%. Mr. Wonderful wants to join in on the deal but Marks says he doesn't need him. Aviv and Mark strike a deal!
Miso Music after the Shark Tank
The Miso Music pitch was popular with viewers: their website crashed after they aired! Once things were back up and running, Aviv tweeted that Miso Music surpassed Angry Birds on the iTunes top ten list. Since airing, Miso Media has launched an instrument tuning app and their much-anticipated sheet music app. In addition to the adapter cord, an iPic was introduced to make "picking" on the iPad easier! The company was listed as one of the "Top 100 Brilliant Companies" in Entrepreneur Magazine and the co-founder,  Joselle Ho, was touted as one of  Forbes Magazine's top 10 female tech co-founders. Miso Music and Miso Media are definitely moving in the right direction!
Unfortunately, the business failed after about a year. Customer aquisition killed Miso Music: they never sold enough sheet music to make the app profitable.
Posts about Miso Music on Shark Tank Blog
Miso Music Info
website