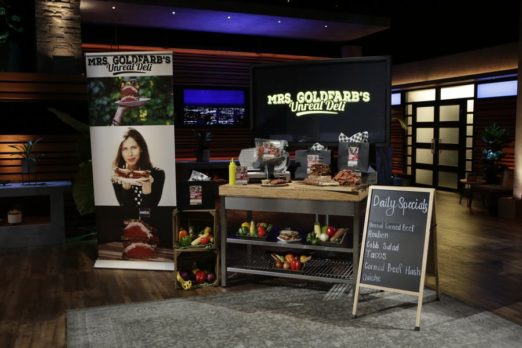 Jenny Hanna Goldfarb hopes the Sharks devour Mrs. Goldfarb's Unreal Deli, her vegan corned beef business, in Shark Tank episode 1111. Jenny grew up in New York City and her great grandfather owned several delis. Grandpa was a Romanian immigrant who worked his way up from a penniless dishwasher to "the boss." Needless to say, Jenny grew up eating a lot of delicious deli meats; her favorite was corned beef.
When she moved to LA in 2011, she began experimenting with plant based food and eventually adopted a vegan diet. Even with her newly found plant-based diet, she still craved the taste of a good, old-fashioned NY deli style corned beef sandwich.
In early 2018, she started a website called Count Your Colors. She publishes new, plant-based recipes on it every Tuesday. She believes the more natural colors from plants that are in our diet, the healthier we'll eat. During this period, she began experimenting with making vegan corned beef. She mixed beets, chickpeas and tomatoes together and came up with Mrs. Goldfarb's Unreal Deli corned beef. Most people can't even tell the difference between hers and the real deal!
She started selling her corned beef in October, 2018. Now, her Unreal Deli "meat" is taking the foodie world by storm. It's even on the menu at Canter's Deli in LA, an "old school" style deli. The business is still very young and she likely needs a Shark to help with "growing pains." Will a Shark take a bite out of this Unreal Deli?
Company Information
Video

Posts about Mrs. Goldfarb's Unreal Deli on Shark Tank Blog
Unreal Deli – Vegan Corned Beef
Mrs. Goldfarb's Unreal Deli Shark Tank Recap
Jenny enters seeking $100,000 for 10% of her business. The business was just a couple of months old when she taped the segment, so sales were soft: just $10,000 or so. She has deals in the works with two restaurant chains and Whole Foods and projects next year's sales at $3 million.
The Sharks love the product, but not the valuation, especially since she's only been at it for a few months. The biggest concern is a big company will knock her off. In spite of that, Kevin offers $100,000 for 20%. While other Sharks ask questions, Mark swoops in with an offer of $250,000 for 20%, but he wants an answer right away or he's pulling his offer. Jenny accepts.
Mrs. Goldfarb's Unreal Deli Shark Tank Update
The Shark Tank Blog constantly provides updates and follow-ups about entrepreneurs who have appeared on the Shark Tank TV show. The deal with Mark did close and Jenny is expanding retail distribution to Medocino Farms markets, Whole Foods, Cali Fresh Mexican Grill restaurants and dozens of mom and pop markets and delis. Recently, she unveiled a test of her products in Denver area Quiznos sub shops. She also sells on Amazon.
In season 12, episode 1204, she gets an update segment where she'll share her progress and a personal story about Covid -19. In the update, Jenny shared the story of her dad. He got Covid-19 and spent 28 days on a ventilator. Just when it looked like he wouldn't make it, he got a plasma transplant and recovered.
The Covid-19 pandemic hit the restaurant business hard, so Mark helped supercharge the move to retail. The company also introduced Unreal Turkey.
In 2020, the company expanded into Canada and was in a total of over 1000 stores, including Whole Foods, Giant, Wegman's, Ralph's and all 36 Veggie Grill locations. Mark believes it will be a $50 million company in a few years. As of July, 2021, they came out with a line of pre-made sandwiches on soft pretzel buns to be sold at airports, colleges, and the prepared food section of the grocery store.  July also brought the release of Unreal Steak Slices. The company has $4 million in annual revenue.
In September, 2021, the company announced it will be delivering sandwiches from a dozen "ghost kitchens" in the New York/Tri-state area and they will be opening seven locations in the greater Los Angeles area in October, 2021. They will use popular delivery apps DoorDash, GrubHub, UberEats, Seamless, Postmates, and Caviar to deliver the sandwiches. In March, 2022, the company partnered with Only Plant Based to begin to form the first vegan sub shop chain. Currently operating out of the ghost kitchens, they plan on having brick and mortar stores in the future. Also in March, the company signed a consignment and fulfillment services agreement with Vejii Holdings Ltd. The agreement will let Unreal Deli offer ground delivery for direct to consumer sales in the entire USA and Canada.
In May, 2022, the company announced it will roll out in Costco in California and Hawaii. They will have pop-ups in 40 Costcos to see the public's reaction to the food before expanding into more stores.
The company, as of April, 2022, is approaching $40 million in lifetime revenue. In June, 2022, Jenny told the Vegconomist "its food service brokers are reporting that, for the first time, large restaurants are asking for plant-based meat alternatives as a means of coping with inflated meat prices." Also in June, Mark plowed another $500,000 into the company at a $50 million valuation. By August, 2022, they got into Publix.
In August, 2023, the company hired Jeffrey Harris as a Strategic Advisor. Harris is the co-founder and former Chief Executive Officer and Chairman of the Board of Plant Power Fast Food, one of the nation's fastest growing 100% plant-based fast-food restaurant chains. He is expected to help grow both restaurant and retail expansion for Unreal products. Mrs' Goldfarb's products are now in over 3000 stores in the US including Whole Foods Market, Sprouts Farmers Market, Ralphs, Albertsons, and Publix. They also sell their products through hundreds of restaurants and food service outlets nationwide. The company is valued at over $60 million at this time and has annual revenue of over $10 million. This could be another $100 million Shark Tank company in a few years!