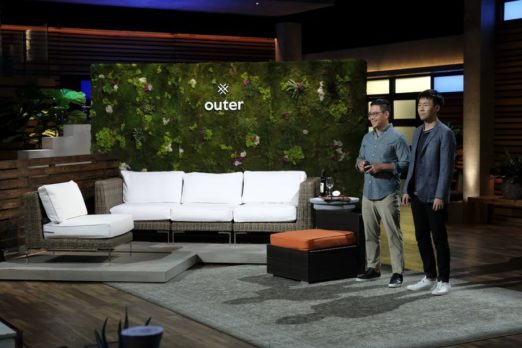 Terry Lin and Jiake Liu hope to furnish a deal when they pitch Outer, their outdoor furniture company, in Shark Tank episode 1111. According to Jiake: "Outer is a venture-backed startup based in Santa Monica on a mission to inspire happier, healthier and more fulfilling lives through innovative outdoor furniture and lifestyle products." The two men started the business in 2017 with the idea of re-inventing both outdoor furniture and they way it is sold.
Liu is a computer engineer with a history of working for start-ups. Lin was a designer at Pottery Barn for more than ten years; his family also owns the Chinese factory where Outer makes its furniture. At the heart of the business is the outdoor sofa. It comes in 2-5 piece sections that can be configured several ways. They're made with all weather wicker, stain resistant fabrics, memory foam cushions and they come with an integrated cover to protect them when not in use.
The Business
They keep their prices lower than the competition by eliminating showrooms. You order online, but if you want to take a look at the furniture "in action," you arrange an appointment with a "neighborhood showroom." These are real customers' backyards. Potential buyers can see the furniture in a real setting and talk to people who already own it. Outer pays a flat fee to its neighborhood showroom hosts so there's no "commission pressure" in the conversations.
Pricing for a four piece sofa/chair set is $3,300 delivered. While it seems like a lot, it's in line with similar furniture from Lin's previous employer. When you figure in the 10 year frame and five year wicker and cushion warranties plus the 365 day money back guarantee, it looks more like a bargain. While Outer only sells online and only has "showrooms" in Southern California, they are looking for a Shark to help them expand. Will a Shark want to sit on this sofa?
Company Information
Posts about Outer on Shark Tank Blog
Outer Furniture – Outdoor Furniture
Outer Shark Tank Recap
Terry and Jiake enter seeking $750,000 for 4% of the business. The company has only been selling for 4 months and has $800,000 in sales. The Sharks question the valuation and the guys tell them it's based on market size. This causes some concern among the Sharks, but Terry and Jiake tell them they have no inventory overhead as Terry's family covers the inventory costs from their factory.
Two Sharks are interested. Kevin offers $750,000 for 20% of the business. Lori counters with a $750,000 loan for 5% equity, plus a $30 per unit royalty until she gets $1 million back. They decide to do the deal with Lori.
Outer Shark Tank Update
The Shark Tank Blog constantly provides updates and follow-ups about entrepreneurs who have appeared on the Shark Tank TV show. The deal with Lori did not close. As of August 2020 the company is still doing business.