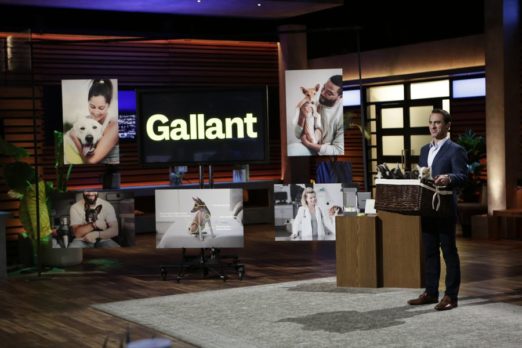 Aaron Hirschhorn seeks an investor for Gallant, his stem cell treatment business for dogs, in Shark Tank episode 1111. Stem cell treatments, or regenerative medicine, are becoming increasingly popular. It usually starts with parents harvesting and storing nutrient rich placenta when their child is born. Stem cells are able to self renew and they can "turn into" other kinds of cells. The child can use those placenta cells (or cells from a healthy marrow donor) to treat a variety of ailments later in life.  While this is a bit oversimplified, it's the basic way stem cell therapy works.
Aaron started Gallant after he had stem cell therapy to successfully heal his chronic back pain. When his own dog started suffering from chronic arthritis, he wanted to cure him. As the founder of Dog Vacay (later acquired by Rover), he was interested in pets and he knew stem cell therapy would work for dogs.  So he went to his Silicon Valley peers and raised $11 million to start Gallant.
Here's how it works. When your dog is spayed or neutered, you have your vet retain the removed reproductive organs (rather than disposing of them). The vet puts the organs in the special shipping container supplied by Gallant and ships it off. The company then isolates the stem cells from the animal and freezes them with liquid nitrogen. The cells are stored in Gallant's FDA approved lab and they're ready to go when needed.
The cost for the collection and storage service is $595 for a lifetime or $95 per year. When the cells need to be "harvested," it costs around $300 for a treatment from your veterinarian. While the company is well capitalized, Aaron likely wants a Shark to help supercharge growth. Will a Shark think this is a good cell?
Company Information
Posts about Gallant on Shark Tank Blog
Gallant Pet – Stem Cells for Dogs
Gallant Shark Tank Recap
Aaron enters seeking $500,000 for 2% equity in the business. The number causes the Sharks to gasp in amazement/mock horror. He explains about four patents he holds that will stifle competition. He explains that he has other investors which is why he's seeking a low equity share. The company is currently valued at $20 million.
The Sharks are concerned that he's burning $400,000 a month to get the stem cell division launched. He really wants Anne Wojcicki as a partner, but she has concerns about Aaron's business model. She thinks he should charge a higher price until he learns to scale the business, then lower prices later. That's what she did with 23andMe.
Kevin floats a couple crazy offers then Lori and Anne team up to offer $500,000 for 8%. After explaining about employees and scientists holding shares, Aaron gets them down to $500,000 for 5% and they do the deal.
Gallant Shark Tank Update
The Shark Tank Blog constantly provides updates and follow-ups about entrepreneurs who have appeared on the Shark Tank TV show. The deal with Lori and Anne did not close. As of August, 2020 the company is still in business. Aaron did take Anne's advice and hiked his prices from $595 for the lifetime plan to $890. The monthly plan is still $95 per month, but it now carries a one-time set up fee of $205. They also added plans for cats and horses.
Tragically, on March 28, 2021, Aaron was killed in a boating accident in Miami. It is unknown as of June, 2021, how this will affect the business which was earning $2.5 million a year. They also added service for horses.  As of April, 2023, the company is still up and running  with annual revenue of $5 million.