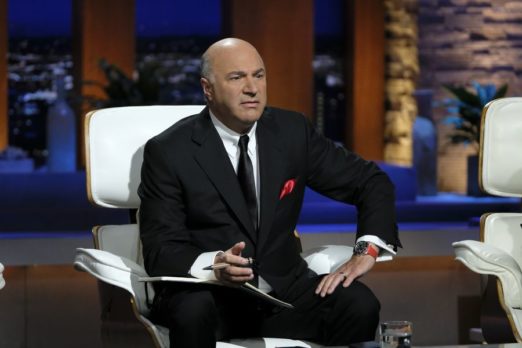 Guest Shark Anne Wojcicki, billionaire founder of 23 and Me, joins the panel for the first time in episode 1111. She joins Mark, Daymond, Kevin and Lori as the wealthy Sharks evaluate 4 new businesses seeking an investment to help grow their businesses.
Aaron Hirschhorn introduces the Sharks to Gallant, his stem cell harvesting and storage business for dogs that may need rejuvenative therapy in the future. Terry Lin and Jiake Liu show off their outdoor furniture company, Outer, that uses innovative sales techniques in lieu of the traditional furniture showroom. Jenny Hanna Goldfarb wants the Sharks to bite on Mrs. Goldfarb's Unreal Deli, her vegan deli meat company that's taking America by storm. Greg Nigro pitches Terra Core, his balance/stepper that lets you do over 1000 exercises. Which business catches a Shark tonight?
Tonight's update segment features a "Shark Profile on Anne Wojcicki. We'll learn a little about her life and how she made her billions with her genetic testing company.
The Sharks
---
Daymond John
Anne Wojcicki
Entrepreneurs
---
Update Segment – Profile on Guest Shark Anne Wojcicki
There are 28 Shark Tank Episodes for Season 11. This season features more appearances by "guest Sharks," including billionaire Katrina Lake – Founder of Stitch Fix, Rohan Oza – "Brand Messiah" and founder of Vitamin Water,
Daniel Lubetzky – Founder of KIND, Matt Higgins – Entrepreneur and Miami Dolphins Vice-Chairman,
Maria Sharapova – Tennis Pro and Founder of Sugarpova and Anne Wojcicki – Founder of 23andMe.  Casting is currently closed, but it never hurts to get a head start on season twelve! If you would like to appear on the show, check out our Auditions and Casting information.
Episode 1111 – The Shark Investors and Entrepreneurs
The Shark Tank Episode 1111 entrepreneurs will make their best pitch to the panel of five Shark investors who will use their own money if they choose to invest. The Shark Investors negotiate on the spot without any previous information, which differs from typical negotiations between venture capital investors and entrepreneurial start-ups.
Companies pitching the Shark Investors must go through a rigorous due diligence process before an on-air deal is completed. Shark Tank Blog follow ups help you keep track of the companies that end up successful and the ones that don't complete their deal.
Thank you for reading SharkTankBlog, the number one site for Entrepreneurs, Investors and Fans. Our content updates multiple times day, giving you the latest information on Episode 1111, Season 11, and all other seasons and episodes.
Episode 1111 Press Release
Shark Tank: Episode 1111 (11/17)
ANNE WOJCICKI, CO-FOUNDER AND CEO OF PIONEERING GENETICS COMPANY 23ANDME, JOINS ABC'S 'SHARK TANK' ON AN ALL-NEW EPISODE SUNDAY, NOV. 17
"Episode 1111" – An entrepreneur from Philadelphia, Pennsylvania, is banking on his cutting-edge stem cell technology to save pets from diseases in the future. A native New Yorker, who now lives in Los Angeles, California, introduces her healthier alternative to a traditional style deli meat; while an entrepreneur from Santa Monica, California, hopes his innovative and multifunctional exercise device will become the next multimillion-dollar hit in fitness. Finally, entrepreneurs from Santa Monica, California, introduce a genius innovation in outdoor furniture on "Shark Tank," SUNDAY, NOV. 17 (9:00-10:00 p.m. EST), on ABC. Episodes can also be viewed the next day on ABC.com, the ABC app and Hulu.
The Sharks in this episode are Mark Cuban, Kevin O'Leary, Lori Greiner, Daymond John and Guest Shark Anne Wojcicki.