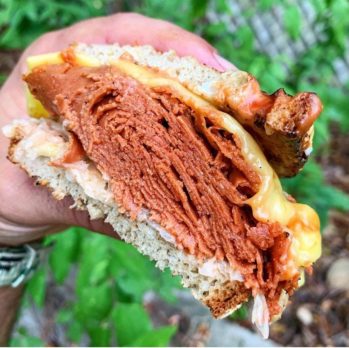 Just for a moment, imagine you're like Jenny Hanna Goldfarb, creator of Unreal Deli vegan corned beef. You grew up in New York City in a family that owned several delis. Corned Beef was not only a family staple, it's your favorite sandwich. Next you move to California and transition to a vegan diet. You may be eating well, but you still crave those corned beef sandwiches. What do you do? If you're like Jenny, you invent vegan corned beef – that's what you do!
And that's just what she did. After switching to a plant based diet, Jenny started publishing healthy vegan recipes on her website Count Your Colors. While she enjoyed cooking and eating vegan meals, she still craved corned beef, so she started experimenting with wheat, beets, tomatoes, chickpeas and her secret spice blend to create Mrs. Goldfarb's Unreal Deli –  corned beef for vegans.
Vegans aren't the only ones who like her corned beef, carnivores like it too. In fact, most of the people she has take a blind taste test think it's the real thing. Now. Unreal Deli is the talk of LA. People are eating it at Canter's Deli and other LA area delis. She's also on several movie studio lots and she's rolling out in Whole Foods in the Southern Pacific Region and Northeast in the fourth quarter of 2019. She wants Mrs. Goldfarb's Unreal Deli in every store in the USA and she's looking for a Shark to help her get there. The question is, do Sharks like corned beef?
My Take on Unreal Deli
Unreal Deli is one of many vegan foods that were created to mimic meats. Burger King has their Impossible Whopper and a previous Shark Tank entrant, Atlas Monroe, created vegan fried chicken. This trend is to help entice carnivores like me to start experimenting with plant-based diets. My retort to vegans is sometimes "well, Twizzlers are vegan." With continued pressure on our planet through big agriculture, veganism is becoming more of a sustainability issue than a lifestyle choice.
My oldest daughter is vegan and we always get her Tofurkey (tofu that tastes like turkey) when she comes for the holidays. I've tried it and it's not bad. I am intrigued by Unreal Deli and I want to try it – and other vegan foods. I'm trying an Impossible Whopper tomorrow and I may order some of Mrs. Goldfarb's for the holidays. I am definitely in.
Are Sharks Vegan?
More and more vegan food items are appearing in the Tank with mixed success. The first vegan item I recall off the top of my head getting a deal was Heidi Ho vegan cheese back in season six. The aforementioned Atlas Monroe got an offer earlier in season 11, but they declined it.
The Sharks, like me, know the trend toward plant based diets. Both Mark and Lori are experimenting with them, so they may have interest. Both have foods in their Shark Tank portfolios. Daymond is a New Yorker, but I don't know if he's a corned beef type of guy. As for Kevin and Anne, I don't know their dietary preferences.  I think Mrs. Goldfarb is going to get a deal, I'm just not tuned in to which Shark offers her one.