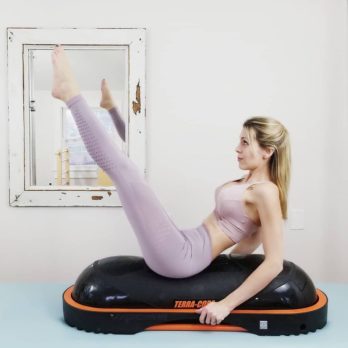 Before creating TerraCore, Greg Nigro was in the fitness industry for nearly twenty years. Most of that time was spent as a consultant to gym owners where he trained people on new gym equipment technologies. Over that period, he was paying attention to what people wanted and needed in personal gym equipment. When he decided to create Terra Core, he went to Kickstarter to get the first batch built. He raised $95,678 back in 2016, and hasn't looked back.
TerraCore is a piece of home gym equipment that has many uses. Nigro says it will help you do over 1,000 exercises. It's part fitness step, part gym ball plus a whole lot more. You can attach fitness bands to it, too. With the accompanying app, you can join the TerraCore "tribe" and get access to live classes and videos of different workouts. There's even a private Facebook group for tribe members to support each other.
He sells Terra Core for $199.00 on Amazon, but he wants to do more. Nigro wants to set up a dealer network to sell his product and he wants to start certifying trainers to teach TerraCore fitness classes all over the country and the world. To do this, he needs some capital – and the help of a Shark.
My Take on TerraCore
I work out 5-6 times a week at a gym. I've owned home fitness equipment before and I never seem to use it – the weights in my shed are proof. I'm one of those people that has to get up and go somewhere to get motivated. I know several people with home gyms that use them all the time, I'm just not one of them.
That said, there are a lot of exercises you can do with the Terra Core that interest me. If they had a few at my gym, I'd use it. I'd even take a class or two if they were offered, but I wouldn't buy one for home use. It would jusst end up gathering dust while I was at the gym.
Do Sharks Think this is a Fit Investment?
Fitness equipment in the Shark Tank usually doesn't fare well. Fitness classes are a mixed bag. Back in season 3 Daymond invested in Billy Blanks Jr. in season three and Cowboy Ryan in season four. Mark invested in Surfset Fitness in season four. Of course Barbara's investment in Body Jac in Season two was one of the biggest failures in Shark Tank history. She lost her whole investment.
Since then, most fitness related businesses haven't fared well. Daymond thinks they're too much work and doesn't want to be in that niche any more. Mark will always invest in something if he smells a winner, but fitness products haven't been his thing the past few years. Lori invested in the Simply Fit Board back in season seven and made a killing, but this product kind of competes with it, so I don't think she'll bid. As for Mr. Wonderful and Anne Wojcicki, they could bid, but I don't think they will.