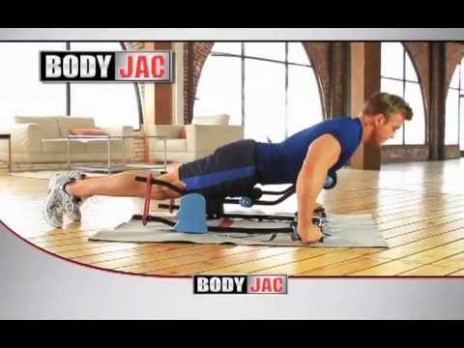 "Cactus" Jack Barrington comes to the Shark Tank with his Body Jac push-up system in episode 105. A life-long entrepreneur, Jack has previous successes under his belt, like the One Shot cleaning tablet, which sold over 10 million units. He hopes the Shark Tank Sharks will help him create a new business model – one which would leave him exposed to less risk than in his previous endeavors. His invention, the Body Jac, uses a series of bands to make it easier for the user to do push ups, and to customize the work out to target specific muscle groups.
An Illinois native, Jack has the swagger and presence of a Texas tycoon. He enters the Shark Tank complete with a fringed leather jacket, large belt buckle under an equally impressive belly, and snake-skin boots. He's accompanied by his daughter, a personal trainer who will demonstrate the product for the Sharks. But will they take the bait?
Body Jac Shark Tank Recap
Cactus Jack walks into the Shark Tank with a confident (perhaps too confident?) air. He's been an entrepreneur long enough to hold the patents to several unique products. This is a big fish for the Sharks, but does his presentation have the necessary bite? He's looking for $180,000, in exchange for 20% of his company. Jack brings more than just his current invention to the table. He holds the patents on several products that have previously been successful sellers. Robert Herjavec jumps in to ask the obvious question:
"So, if you've made several million, why are you here asking for $180,000?"
Barrington explains that he made millions by his early 30s, and lost them just as quickly. His family has been affected by his business decisions. He's looking for a partner to share the risks, as well as the profits. He says "You're not just investing in the Body Jac. You're investing in Cactus Jack."
Kevin O'Leary is not impressed with this approach. He feels that Barrington's $27,000 personal investment isn't a high enough percentage in comparison to the stake he's seeking. He's out. Robert Herjavec follows, for similar reasons. He's out.
Kevin Harrington offers $90,000, but he wants 50% of the company. Barrington has to convince another Shark to commit to the other $90,000. Barbara Corcoran speaks up. She's willing to put up the other $90,000, but she has a contingency. She wants Barrington to use his own machine to lose 30 pounds. Kevin pushes Jack to make a decision, but Daymond John steps in. He puts his own offer on the table: he's willing to give the whole $180,000, but he wants the whole package: "I want to be in the Cactus Jack business."
Kevin Harrington presses again, for Jack to make a decision. Jack deliberates for a few seconds before nodding. "Cactus Jack, he's your man. If he can't do it, no one can. I'll take your deal." He high-fives Corcoran to celebrate his success.
BodyJac Shark Tank Update
Barrington did lose the 30 pounds, and then some, by his deadline, sealing his deal with Corcoran and Harrington. This provided the material for the episode 113 Body Jac update segment. Kevin Harrington took Cactus Jack to a major infomercial trade show, and produced infomercials that launched the BodyJac into success. The episode 206 update highlighted the high flying success of the Body Jac deal.
At some point, something went wrong with this deal. Barbara Corcoran publicly called Body Jac one of the worst deals she's ever done and claimed Cactus Jack took all her money. In 2012, the Body Jac website was down and it appeared the product was defunct. Corcoran did continue to participate in some capacity until early 2013 as evidenced by this photo on the Body Jac Facebook page. Whatever went down between Cactus Jack and Corcoran, the details will probably never come out, but she still holds some animosity for him as evidenced in this October, 2014 interview with the Shark Tank Blog.
As of early 2015,  Cactus Jack runs his own marketing company, and the BodyJac is still available for sale. As of July, 2021, the company is out of business.
Body Jac Company Information
Video