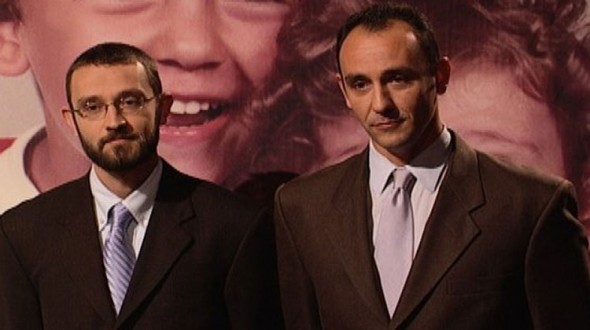 Alexis and Rodolfo Saccoman come to the Shark Tank in episode 105 with a website, My Therapy Journal, and a dream. Originally from Brazil, the brothers came to the US at ages 10 and 6. Their father found work in a factory, before working his way through college and two Masters degrees. He worked hard to ensure his boys would have a solid foundation upon which to build their futures.
The brothers didn't waste the opportunities their father worked so hard to provide. Alexis went on to become a therapist in private practice, while Rodolofo became the head of marketing for a major resort. The pair brought their diverse skills together to create My Therapy Journal, a website that provides users with therapeutic services from the privacy of their homes. Will the Sharks bite?
My Therapy Journal Shark Tank Recap
Alexis and Rodolfo enter the Shark Tank looking for an $80,000 investment, in return for a 20% stake in the business. Alexis asks the Sharks to close their eyes for a few seconds, and think of something that makes them feel happy. "10 million," says Kevin O'Leary, earning chuckles from the brothers and other Sharks. Rodolfo explains that they're in business to "give that feeling to more people." Alexis adds that the software offers an alternative to traditional therapy in an online environment. Users keep a journal on the secure website, and the software tracks key words and phrases to help track progress with a specific diagnosis or mood.
Kevin O'Leary, in typical "Mr. Wonderful" fashion, cuts to the chase. "This is all great," he says "But what I want to know is, how are you going to make money?"
Rodolfo explains that they have over 1,000 registered users, and about 120 who have signed up for a payment plan. The sales were at $4,000 in a year's time. The numbers don't impress the Sharks. Barbara Corcoran is out based on the low sales. Kevin Harrington agrees, and also declines to offer a deal. Two Sharks are out. Three are left.
Alexis reveals that the brothers are in conversation with major insurance provider, Aetna. The news captures the remaining Sharks' interest. Kevin O'Leary puts an offer on the table, $80,000 for 50% of the company. Robert Herjavec is also interested. Daymond John speaks up, wanting in on the deal. Herjavec presents the offer to the brothers, but with a slight change: 51% of the company in exchange for the $80,000, with the consideration of Herjavec's marketing expertise and his own internet experience.
O'Leary and Herjavec cut John out of the deal, so he makes his own offer. The deals on the table are 51% for $80,000, working with Herjavec and O'Leary. Daymond John offers $120,000 for a 50% stake. After some back-and-forth, the brothers accept Herjavec and O'Leary's offer. The Sharks have made the deal.
My Therapy Journal Shark Tank Update
The deal with Robert and Kevin never closed and the brothers shuttered the company in December, 2009 – just a few months after airing on Shark Tank. Alexis Saccoman is now a Program Director for IThrive and in private practice as a psychologist. Rodolfo Saccoman has shifted his focus to his own start up, AdMobilize.com. Of being on Shark Tank, the brothers had this to say:
"Our American dream, since we were little kids, today, has come true. And now, all the hard work will pay off." Alexis passed away in 2018.
My Therapy Journal Company Information