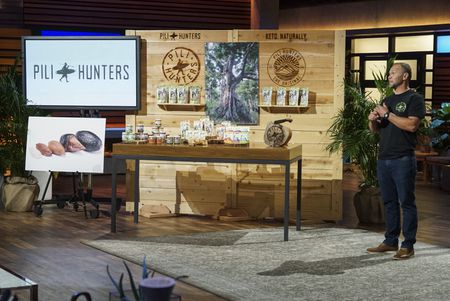 Jason Thomas wants a Shark to bite on Pili Hunters, his pili nut snack food business, in Shark Tank episode 1107. Pili Nuts are grown in volcanic soil in Southeast Asian countries, northern Australia and Papua New Guinea. People say they are like a combination of macadamia and pine nuts in flavor and texture. Their biggest benefit is they are high in protein – one cup has 13 grams. They're also loaded with magnesium, calcium, phosphorus, potassium and healthy fats. You can eat them plain, roasted or pretty much any way you'd eat any other nut. Pili nuts are paleo, keto, non-GMO, vegan and gluten free. They are literally the most nutritious nut in the world.
Mr. Thomas, who grew up in the Alaskan tundra, initially worked in construction in Alaska. With the money he made, he traveled the world as a self professed "rock climbing bum." Before founding Pili Hunters, he worked as a mountain guide, an archaeologist's assistant, a glaciology field hand, a commercial fisherman and a kite surfing instructor. It was in the Philippines where he discovered the Pili nut.
When he came back to the USA, he brought 15 pounds of Pili Nuts with the idea of starting a business. He handed the nuts out to natural food stores up and down the west coast and started securing orders. That was in 2014. Five years later, Jason secured deals with indigenous farmers in the Philippines to harvest Pili Hunters nuts in the wild. Now he sells a variety of pili nuts, flavored with different oils and spices, plus a variety of pili nut butters. He currently sells nuts wholesale, on Amazon and in select Wal Mart stores. He likely wants a Shark to help him expand distribution.
Company Information
Video

Posts about Pili Hunters on Shark Tank Blog
Pili Hunter – Pili Nuts For Snacks
Pili Hunters Shark Tank Recap
Jason enters the Tank seeking $325,000 for 10% of his company. He tells his story, gives his pitch and hands out samples. Robert thinks it's the best nut he's ever tasted. He's done $2.5 million in sales for the lifetime of the company. While the Sharks like the nuts and the numbers, they don't like Jason's lack of focus or the fact that he has 14 different products. It doesn't help that he's sitting on $400,000 worth of inventory, either. One by one, the Sharks go out and Jason leaves with no deal.
Pili Hunters Shark Tank Update
The Shark Tank Blog constantly provides updates and follow-ups about entrepreneurs who have appeared on the Shark Tank TV show. As it turns out Jason has plenty of focus. He leveraged influencers in the keto space to promote his products. Most of his sales are online from his website or Amazon. As of July, 2021, he has annual revenue of $4 million.