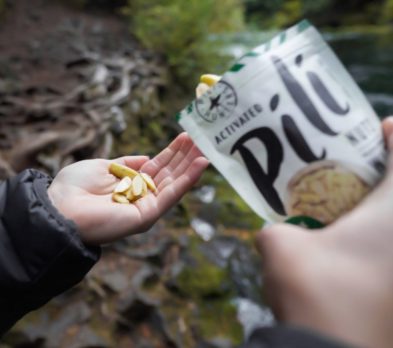 Jason Thomas is the Pili Hunter. While that might sound like an intro to a new cable TV series, it's actually his business. Pili Hunters is the latest keto, gluten free, paleo etc snack food out there and it's all natural. Pili Nuts are the main ingredient in the Pili Hunter line, which includes roasted Pili Nuts in a variety of flavors, raw nuts and Pili Nut Butters. The main ingredient is the most nutrient packed nut on the planet and it packs a lot of protein.
Thomas "discovered" Pili Nuts while kite surfing in the Philippines. He fell in love with the taste and, when he learned about their nutritional value, he wanted to introduce them to the USA. Nuts are a staple snack for outdoorsy types like Thomas. He's an avid backpacker, rock climber and all around adventurer. Nuts provide a nutrient and protein packed meal in a small package which is important when you're carrying your meals on your back.
When he left the Philippines, he took a sack of the nuts and started introducing them to health food stores on the west coast. By 2017, he had Pili Hunter nuts in over fifty stores. That's when the world started to notice. Pili Nuts earned rave reviews from the foodie press and two years later, Thomas had over 150 stores carrying his product.
He uses indigenous farmer/gatherers in the Philippines to wild harvest the nuts. There are no pesticides, fertilizers or chemicals of any kind. Next, he sprouts them and slowly dries them before seasoning and packaging them. Thomas pays his farmers a fair wage, so it's a win/win for the entire supply chain. Now, the nuts are available nationally on Amazon, but he wants a Shark's help to scale quickly to national retail distribution. Will a Shark go nuts for the Pili Hunter?
My Take on the Pili Hunter
I pretty much eat a paleo diet these days and nuts are a big part of my diet. I keep a small bowl of them at my desk while working to nibble on and I always take some on the road with me when I go fishing. I've tried pili nuts before and they are yummy. My local bulk food store carries them.
Thomas is taking what I'd dub a "niche nut" and trying to bring it to the masses. It's a noble idea and one that will likely succeed. People are a lot more conscious of what they're eating and with veganism trending upward, products like Pili Hunters will get a lot more market share and shelf space.  This is the right time for this product. I'm in.
Will the Sharks Go Nuts for This?
I'm curious as to whether Daniel Lubetzky ever heard of these nuts. He's the obvious  target Shark for this product. A Shark like him could take this product national quickly. There are other companies selling pili nuts, but Pili Hunters is a branding exercise as well as a snack food.
The wild harvesting is a nifty idea, but it could pose logistical problems. Thomas needs to ensure that his supply chain is solid. If it is, he may get some offers. Lori, Robert and Kevin aren't big fans of the snack food space. Mark could invest as he has other food products in his portfolio. Lubetzky is another potential investor, too. If Thomas can offer a good deal, reassure the Sharks about his supply chain and he overcomes the "it's too early" objection, he could leave with a deal.