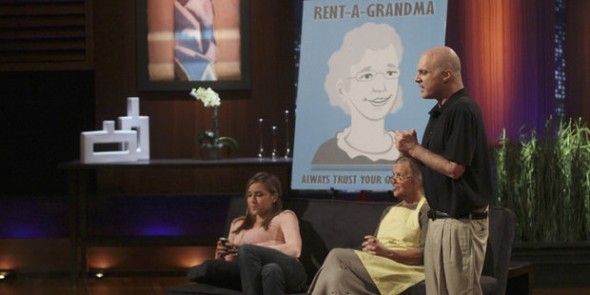 In episode 305 Todd Pliss brings his idea for unique staffing agency, Rent a Grandma, to the Shark Tank. Formerly, Pliss worked as a tutor to up-and-coming stars, including The Jonas Brothers. A complaint he heard repeated often by parents was that it was nearly impossible to find reliable, trustworthy child care. College students and teens tended to be too distracted. Pliss came up with an idea: Why not pair older ladies with proven domestic experience, with families in need? He closed his tutoring business, and began interviewing candidates, doing background checks, and creating the Rent a Grandma business. Now, he wants to franchise the idea, taking the Grandmas national. Will the Sharks bite on this unique idea?
Rent a Grandma Shark Tank Recap
Pliss is requesting an investment of $150,000 in exchange for 20% of his business. Pliss enters the Tank with one of his "grandmas." He has a teen model demonstrate how younger caregivers may sit around texting and playing with electronic devices instead of paying attention to the children. By contrast, he presents a "grandma" who will be engaged with the children, not distracted by electronics, and "may even bake cookies." He has his model pass out fresh cookies to the Sharks, eliciting light-hearted exclamations of "thanks, Grandma," and "Thanks, Nana! You shouldn't have." from the Sharks.
Barbara Corcoran asks Pliss how long he's been in business. Pliss explains that he's been in business for a year and has 50 "grandmas" in LA, and he's getting calls from around the country. He's made $25,000 in the first year, and is getting ready to expand into offering franchises in other cities.
Kevin O'Leary wants to know "how can I make a buck off a granny? How does this work?"
He's not impressed with Pliss' answer, that the profit margin is 15% of the total fee. Pliss explains that the families pay up-front for the service, so once the Grandma is hired, the company doesn't have any more work to do. He doesn't believe that Pliss brings enough value to a franchise, even with the trademarked name, Rent a Grandma. Pliss explains that the company requires a minimum commitment from the families, ensuring that the income is solid.
Daymond John thinks it's a "cute idea," but he's out. Robert Herjavec believes the company is a "good idea," but "a long way away from franchising." He's out. Barbara Corcoran says that "this just isn't my type of business." She's out.
Kevin O'Leary doesn't like the profit margins. He's out. Mark Cuban doesn't want "to be in the Rent a Grandma business." He's out.
Rent-a-Grandma Shark Tank Update
Although Pliss was shot down in the Tank, he continued offering his senior employment service. The franchise idea seems to have been abandoned in favor of a website that works in a manner similar to Angie's List. Families can visit the site and "browse" available matches in their area. Potential "grandmas" pay a small, one-time fee for their listing on the website, and undergo a background check. Today, Rent-a-Grandma is available to users worldwide. The brand continues to grow, filling a niche in the market for domestic help, and providing older ladies who might otherwise have aged out of the workforce, with jobs. Even without a Shark deal, Pliss has hit upon a winner that Grandma would be proud of.
In 2020, Todd added tutoring to the list of services the business offers. As of July, 2022, there are more than 300 grandmas offering services on the site from all over the country. They also added an app to their suite of services. Reliable revenue figures are unavailable.
Posts about Rent a Grandma on Shark Tank Blog
Rent a Grandma Shark Tank Preview
Rent a Grandma Company Information