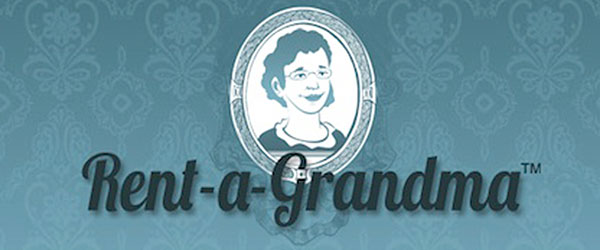 Rent a Grandma will be jumping into The Shark Tank on Friday; the big question on everyone's mind is will Grandma get funded or will she be a "meal" for the Sharks? Founded by Mr. Todd Pliss, Rent a Grandma is a terrific example of the best entrepreneurial strategy of all: find a need and fill it.
Todd was working as a tutor in Hollywood (one of the Jonas Brothers was a student) when he heard the Hollywood moms chattering about the lack of quality childcare available to them. Older, mature women seemed to be the answer to unreliable teens and twenty somethings, so he started what is essentially an employment agency to match "grandmas" with families who needed reliable childcare.
The concept met with immediate success. He soon had a stable of grandmas, women over age 50, serving families in the greater Los Angeles area. He promises his grandmas won't "tweet or text" while watching the kids and he believes they have a much warmer, fuzzier image than the typical young babysitter/nanny. The grandmas enjoy the opportunity too, with the economy being what it is these days, many of the grandmas in Rent-a-Grandma's employ welcome the opportunity to have regular work. The grandmas also do other chores like cooking, light cleaning, and pet sitting. Todd's even selling Grandma style home made cookies on the Rent a Grandma website.
Rent a Grandma Featured Fox News
The business was started in 2010 and got a huge bounce when they were featured on Fox News. Todd was inundated with phone calls from grandma wanna bees, national news outlets, even the AARP. Oprah Winfrey's people even approached him about a reality show based on the business. The most interesting development was the over 600 inquiries about franchising the concept that came from all over the country. Quick to recognize an opportunity, Todd set up a Rent a Grandma franchise program and currently has two franchisees with 15-20 in the works to come online this year.
Based on the preview video, it would seem that the margin for Todd's LA based business is too low for the Sharks. I do believe they will be intrigued by the franchising concept, especially if Todd can show proof of more franchisees waiting in the wings. The "Oprah factor" may have some juice in this deal too- regardless of an Oprah produced reality series being on the table or not, The Sharks like stuff Oprah likes.
My guess is they get the dough and roll out nationally- any time you fill a need, you win.
You can watch the preview video HERE