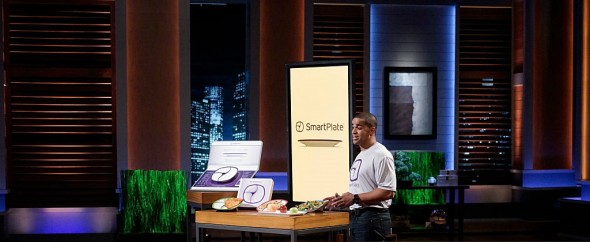 Martin Dell'Arciprete brings the latest in nutritional technology to the Shark Tank when he pitches the SmartPlate in episode 721. The SmartPlate is to dieting what Fitbit is to exercise. The product weighs and calculates the calories and nutritional value of whatever food is put on the plate.
There are scales and cameras built into each plate. The plate takes a picture of the food and calculates the nutritional value through a USDA database, based on what kind of food it is and how much there is. All this info synchs to a smart phone app which allows you to track food intake. Even the size and shape of the SmartPlate is designed to prevent overeating – there are portion compartments that keep you from overloading your plate. There's even an indicator that goes off if you're eating too fast.
The SmartPlate, which is made by Fitly, got its start with a successful Kickstarter campaign in May, 2015. They successfully raised $110,000 to get the tooling done for manufacturing. Folks who also own a Fitbit can synch their data with their SmartPlate so they can have a complete view of their calorie intake and expenditure. The product is only available on a pre-order basis now, but they expect to ship sometime in the next month or two. If you buy now, it will only cost $99 instead of the regular $199 price.
Will a Shark think this is a smart investment?
SmartPlate Shark Tank Recap
Martin enters seeking $1 million for 15% of SmartPlate. He begins by saying every day people try to lead healthy lifestyles, but calorie counting is tedious and inaccurate. SmartPlate uses food sensors and weight sensors to give people all the nutritional information about what's on their plate in a snap.
He hands out samples of his prototypes and the Sharks collectively moan. Mr. Wonderful asks how it differentiates different oils and Martin replies, "it can't," but it can say what the different ingredients are. Daymond remarks that there are no bar codes on "street meat," but Martin says the plate could analyze it.
Martin doesn't have weight sensors in the prototypes and he simulates the cameras in the plate with his smart phone while explaining the new cameras will be above the food. Mr. Wonderful says there are a lot of things that need to come together for it to work; he wants to know if an app could do the same thing and says "I smell pre-revenue." When Martin tells him the plates cost $199, Kevin says "honey, poopsie, baby, that's crazy!"
Daymond is uncomfortable with the pitch; he's out Kevin says people don't eat all their food at home and there's no merit to the product; he's out. Mark doesn't see any technology and says he's betting the company on third-party design companies; he's out. Sacca says the plate is a crutch – he thinks the camera should do all the work and thinks there are a lot of ways this business fails out of the gate; he's out. With four Sharks out, Martin pitches Barbara hard, but she says the pitch was terrible and confusing; she's out.
In the hall, Martin says it was tough pitching the Sharks, but he still believes in his product. Back in the Tank, Daymond says he wants some street meat and soft serve ice cream!
SmartPlate Shark Tank Update
The wait time to air the show was longer than the continued career of Martin Dell'Arciprete with SmartPlate. The company quietly cut ties with the presenter soon after Shark Tank, citing "performance issues." The loss of the company's marketing lead may have been a blow, but the SmartPlate's inventors persevered, running a successful Indiegogo campaign, which concluded in January 2017.
Eager customers waited for their pre-ordered SmartPlates… and waited, and waited. Finally, in May 2017, the CEO Anthony Ortiz posted an update video to Facebook, and a message that read, in part:
"First of all, we thank you for your continued support, patience, and understanding. While it's been a challenging journey to develop a software+hardware solution that is this innovative, completing the SmartPlate App along with the image recognition technology is a monumental achievement, and it is the most critical component of our solution.

Our estimated shipping date is July/August 2017."
The message went on to describe the updates to the SmartPlate app, which is available through the app store.
It seems as if the Sharks were right about the technical challenges facing SmartPlate. Time will tell whether the technology will live up to expectations, or if this is just another nutrition app that never became anything more.
As of November, 2021, the company is selling the plates in a subscription model: $149 for the plate plus $29 a month for the app or an annual subscription for $348 which comes with a free plate. As of December, 2022, the company has thousands of subscribers and generates around $1 million in annual revenue. By August, 2023, the website has become disfunctional and there is no way to sign up for their service. It appears they've gone under.
Posts About SmartPlate on Shark Tank Blog
SmartPlate Company Information
Video