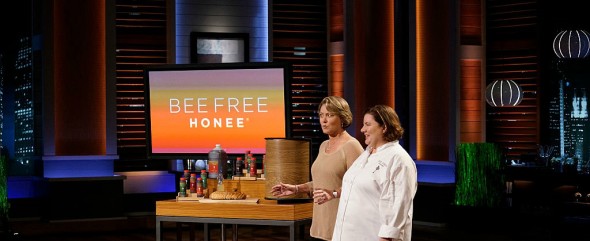 Melissa Elms and Katie Sanchez pitch their apple-based honey substitute, Bee Free Honee, to the Sharks in Shark Tank episode 721. Sanchez, a pastry chef with a life-long love of cooking, created Bee Free Honee by accident. In 1999, she was attempting to make apple jelly, but she screwed up. What she got was a honey-like substance. Four years later, after much experimentation replicating her "mistake," she was in business selling Bee Free Honee as a honey substitute.
Sanchez keeps it local: she uses only Michigan grown apples, and all he packaging products come from Minnesota.The product can replace regular honey in any recipe and it's a lot cheaper than raw honey – particularly with the decline in the bee population.
Bee Free is on the shelves at Whole Foods Markets and other natural grocery stores all over the country. It'll set you back about 12 bucks a jar and it comes in 5 flavors: original, Ancho Chile, Mint, Chocolate, and "Slippery Elm." Elms and Sanchez likely want a Shark's help with increasing production for growth.
Will a Shark be sweet on Bee Free Honee?
Bee Free Honee Shark Tank Recap
Bee Free opens with an "at home" segment where Melissa explains how she and Katie met at a food show and decided to become business partners. She says her product "gives bees a break." They've put everything into their business spiritually, emotionally, and financially and they want a Shark to help them grow.Melissa and Katie BEE
Melissa and Katie enter seeking $110K for 10% of their business. They tell the Sharks it takes 60,000 bees to make one pound of honey. Their product is the only alternatively available honey substitute made from apples grown in the USA. They want the Sharks to see what the buzz is all about!
As they hand out samples, they say the product contains apples, a little lemon juice for preservative and some cane sugar. Kevin asks why the world needs this and they say vegans like it. Daymond says he knows bees and wants to know how it compares to honey. Bee Free costs $1.60 to make and they sell for it for $5.99 a bottle; a similar size jar of honey costs $10.99 and up.
They say they are in 9 of 11 regions in Whole Foods with $104K in sales to date. The made $78K in their first year.
The company just finished testing in Costco and they are tooling up to fill that order. They need money to make a new kitchen to up production.
Sacca wants to know if chefs could use it. Mark says if you sell it and bill it as saving bees, it's a $100 million dollar brand. Kevin thinks they haven't made enough money; he's out. Barbara thinks they are passionate, but need to brand it better. Daymond says he'll give them $100K for 25% right now. Sacca says he used to be vegan and he's an investor in Veggie Grill, a plant-based restaurant. He wants to source plant-based products that are cheap, but he says they need more than $100K.
After a break, Sacca offers $200K for 30% Daymond says he'll match it: $100K for 15% or $200K for 30%. Then Daymond offers $100K for 10%, plus he'll run all online sales for 20%. Barbara matches Daymond's offer and says she has food expertise. Mark says he'll go in with Barbara and Sacca for $210K for 30%. Mark will do the web piece, Barbara will deal with grocery store sales and Sacca will do restaurant sales. Daymond says, "imagine those conference calls!" The ladies take the three-way deal and out in the hall they say "we went deep-sea fishing and caught three sharks!"
RESULT: DEAL with Barbara, Mark, and Sacca for $210K for 30%
Bee Free Honee Shark Tank Update
Coming out of the Tank with a three-way Shark deal is an impressive accomplishment in itself, and the Bee Free Honey entrepreneurs aren't wasting the opportunity. By June of 2016, they were hiring additional staff and expanding their contract manufacturing agreement. By mid-July 2016, they hoped to expand their production capacity by 600%. In late June 2016, the entrepreneurs took their product to New York's Fancy Food Show, further expanding their outreach.
The products are available in Natural Grocers, Wegmans, Fred Meyer, Whole Foods Market, Sprouts Farmers Markets, and Brookshire's, as well as numerous privately-owned stores. Chris Sacca included the product in his Veggie Grill chain's offerings, and Mark Cuban helped move the product forward on Amazon and Zulily. Bee Free Honee appears to have created a sweet deal for three of the Sharks.
Unfortunately, due to a lack of consumer awareness, the company shut down in 2019.
Posts About Bee Free Honee on Shark Tank Blog
Bee Free Honee Company Information
Video