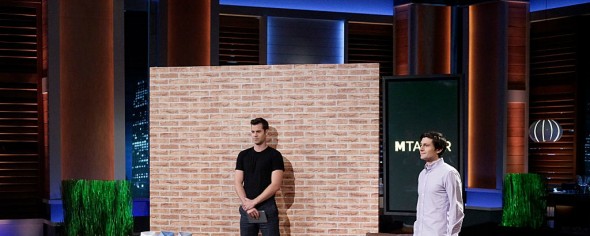 Miles Penn pitches MTailor, an app that measures you for custom tailored clothes, in Shark Tank episode 721. The Android and iPhone app measures your body, much the way a tailor would, which then allows you to purchase a custom tailored shirt or suit online. Shirts start at $69 – less than half what standard tailored shirts cost.
Penn got the idea for MTailor from his reluctance to buy clothes online. He bought everything online, except clothes because he hated getting bad fitting clothes and the return process. When he sought a solution, he realized there was a solid business opportunity. Now, the MTailor app claims it's 20% more accurate than an actual measurement from a real tailor!
Using it is simple: stand you smart phone at the proper angle and the app takes a picture of you (shirtless), it then "measures" your body from the photo and your height – which you input. From there, it takes those measurements and sizes custom shirts which you can purchase through the app.
Penn's company has some strong early venture capital backers. They incubated the business at Y Combinator and received $2 million in funding from Khosla Ventures, a venture capital firm started in 2004 by Vinod Khosla, Co-Founder of Sun Microsystems. Will MTailor add a Shark to its list of investors?
MTailor Shark Tank Recap
Miles enters seeking $2.5 million for 10% of his company. He tells the Sharks he hates going to the mall, but online shopping is worse – until now. His app measures shirts with a phone and is more accurate than a real-live tailor. Miles demos ordering a shirt from over 10,000 style and color combinations. First, choose the style options, then lean your phone on a wall and do a single spin. The app measures for a shirt from the video in under 30 seconds. Because there is no overhead of a store and a tailor, he can sell a custom shirt for 69 bucks – nearly half what other custom shirts cost.
The app uses 14 measurement points with its proprietary technology. Miles sees about 15% returns, compared to 25% in a retail store. Right after the demo, Daymond questions the valuation. Miles tells him revenue was $150K per month as of July, but it's gone down. He's initially projected $2 million in sales but now he's on track for only $1.1 million. He also has $1.4 million in the bank. Revenue dropped because there are supply chain issues he needs to fix: he's still paying too high a price for shirts even with his volume. MTailor needs help with its supply chain'and thinks Daymond could be an asset.
Defending his valuation, he says he raised $2 million at a $10 million valuation. His technology is different than anything out there and he's focused on building a brand and mainstreaming custom clothes. Sacca asks him why he doesn't license the technology and Miles says, "the tech part is easy, it's the rest of it that's nasty." Sacca says the pitch and explanation about his valuation isn't going that great and wants to know if the original investors would go in at a $25 million valuation. He asks, "are you trying to take advantage of sharks?"
After a break, all 5 Sharks are still in, but they are questioning the valuation. Miles says he's not trying to take advantage of anyone. Sacca says the problems he's having don't reflect the valuation. Miles says with the money in the bank, they can get to Ramen profitability soon. Sacca says he can't make a deal for a perfect price for a company that isn't perfect.
Barbara says he's explaining problems away without stress and she's out. Daymond says, "I don't really like you, but I like the concept," and offers $2.5 million for 17.5%, but he wants to license it out. Miles says he has different strategic visions and is interested in developing his own line to build value. He thinks licensing would derail the company. Daymond says he could take $2.5 million and develop his own software. Miles says, "by all means, go ahead." Daymond goes out.
Mr. Wonderful says he's interested, but doesn't want him to go to China. He thinks Miles will fail and says he shouldn't try to reinvent wheel. Kevin offers $2.5 million in debt at 7% for three years for 2.5% of the company. Mark says it's a good deal. Miles says it's the most reasonable deal he's ever heard from Kevin!
Mark says going to China is a mistake – Miles needs someone who knows that piece; he's out. When Mr. Wonderful presses, Miles says he's interested in equity partners, not debt, so he'll decline. Sacca says he thinks Miles doesn't have confidence in his business. Kevin says, "you're a dead shirt walking." He's out.
RESULT: NO DEAL
MTailor Shark Tank Update
It might not have been the best move, professionally speaking, to alienate one of the biggest names in the clothing industry in Daymond John. Miles' insistence upon keeping his business model cost him a deal with the Sharks, but he has persevered with his dream. The MTailor site is up and running, and the app has a 4.5 star rating on the iTunes store, as well as a 3.5 star rating on Android. The few complaints garnered by users in the app store focus on usability issues. One customer complains that the app doesn't reveal the user's measurements, while another refuses to "send you people an underwear photo."
Overall, Miles seems to be finding success with his app. He might have gotten there faster with a Shark's backing, but he seems to be succeeding on his own. The company now sells suits, blazers, dress pants, jeans, chinos and more.
Venture capitalists love this app. They raised $7.2 million in venture capital in 2018. In January, 2022, they raised another $8.3 million. As of December, 2022, the company is doing $13 million per year in sales and is valued at around $25 million.
Posts About MTailor on Shark Tank Blog
MTailor Company Information
Video