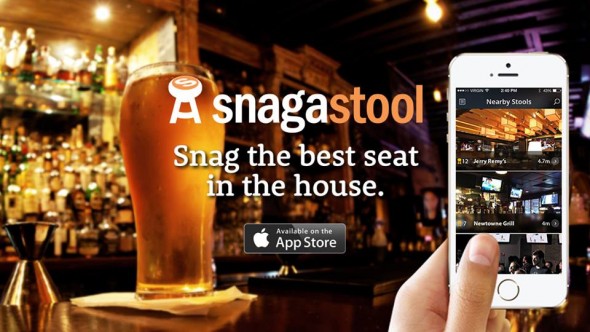 Jamie Manning and Adriano Varassin hope to snag a Shark to invest in Snag a Stool, their bar stool reservation app, in Shark Tank episode 624. The pair, who never met a beer they didn't like, started Snag a Stool in 2013. The app, a self-described "Open Table for bars," allows users to reserve a seat at the bar ahead of time. Manning got the idea for the business when he paid someone to save him a seat at his favorite watering hole so he could watch the Boston Bruins in the playoffs.
Saving a stool costs a few bucks (it depends on the bar and the event date) and "premium" events, like the Super Bowl, carry premium prices. Users reserve their seats and pay for them through the app. The added benefit of Snag a Stool is bar owners can use the app to bring in customers by offering incentives (like free appetizers) to users. Bar owners also get additional revenue by "selling" their bar stools and the app makes money by taking a percentage of the fee. Snag a Stool users get to feel like they're VIPs when they walk into a packed bar and snag a seat right at the bar.
So far, the service is only available in Boston, but in order to generate serious revenue, the business will need to expand nationally. Snag a Stool is likely looking for a Shark to help them manage their growth. Will this company snag a Shark?
Snag a Stool Shark Tank Recap
Jamie and Adriano enters seeking $120K for 18% of the business. They explain the business and demo the app on a big screen. Robert asks why he needs Snag a Stool. They explain the difference between peak and off peak times. Lori thinks regulars would get pissed off. Mark thinks it could create interest. Mr. Wonderful asks if he can reserve a spot 15 minutes before a big game time.
Jamie explains that in peak time, they charge by the hour for the stools. They only have three bars now to prove the concept. Mark wants to know what's different about this app. Mr. Wonderful says they need to guarantee cash to the bar, Mark says it needs to be big money – like $10,000. Mark thinks they haven't created enough value, he's out. Daymond isn't a bar guy, he's out too. Robert thinks the concept is fundamentally flawed, he's out. Lori gets it, but thinks it's too early, she's out too. Mr. Wonderful thinks there is a kernel of a good idea – he thinks if they could give him a stool on short term notice, they'd have something – he's out.
RESULT: NO DEAL
Snag a Stool Shark Tank Update
The Shark Tank Blog constantly provides updates and follow-ups about entrepreneurs who have appeared on the Shark Tank TV show. This company shut down in September, 2016.
Posts About Snag a Stool on Shark Tank Blog
Company Information
Video