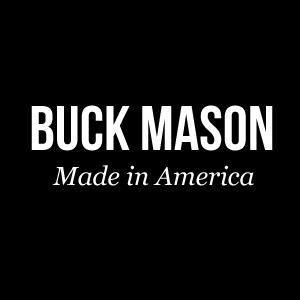 Sasha Koehn and Erik Shnakenberg pitch Buck Mason, their American made, timeless men's fashion line, in Shark Tank episode 624. They created the business to bring jobs to America and to provide American men with quality, cool clothing. Only 3% of the clothing purchased in America is made here, Buck Mason is bucking that trend.
The clothes are simple: "quintessential" denim, high-end tee shirts, rounded cut Oxford shirts, belts, and Stetson hats. Their aim is to make "rock star simple" clothing that out lives fashion trends. Buck Mason offers a "try-it-on option" with their packages. Each package contains two to four clothing items from their line that customers can try for 14 days and pay for what they choose to keep. It's the old "puppy dog close," for clothes!
Buck Mason clothing is a tad pricey: $24 for a tee-shirt, $88 for an Oxford shirt, and $135 for a pair of pants. While those prices may seem a bit high, they are less than other big-name designer clothes of similar style. The business is growing – they have several job openings on their website –  so they are likely looking for a Shark to provide cash and advice for growth.
Will Buck Mason find a fit with one of the Sharks?
Buck Mason Shark Tank Recap
Sasha and Erik open with an "at home" segment where they explain the unique way they sell their clothes. They are selling out of every new product they introduce and they've proven American Made can be profitable.
The guys enter seeking $200K for 18% of the company. They modeled their clothes from Erik's dad's clothes. They're ignoring fashion trends and making quality, simple men's clothes. They hand out samples and explain their direct sales: either individual pieces or as packages.
Mark balks at the price of the jeans, but they explain it's because it's American made. They've done $300K in sales in a year and 38% of their customers reorder. They are acquiring customers with social media – mostly Instagram – so customer acquisition is next to zero. They've each invested $10K and they'll make $500K this year.
Mark doesn't want to be in the clothing business – he's out. Lori likes it, but it's a bit too soon – she's out. Robert doesn't understand how customers are finding them – he's out too. Kevin loves the clothes and the branding but he thinks their valuation is off; Daymond agrees. Daymond thinks it's too costly, so he's out.
Kevin says he'll do $200K for 50% because they're too far away from making money. The guys say they won't give up more than 15%. Kevin says he can't go to that value. The guys counter with $200K for 15%, a $100K line of credit, and clothes for life. Robert chimes in and says he'll offer $200K for 25% and a $100K line of credit and he warns them not to counter. Mark tells them Robert's offer is solid because they'll make a lot of money with him and the inventory he can deliver. The guys don't want to give up that much equity and counter with 17%. Robert won't budge and they decline.
RESULT: NO DEAL
Buck Mason Shark Tank Update
The Shark Tank Blog constantly provides updates and follow-ups about entrepreneurs who have appeared on the Shark Tank TV show. After the show, they said they didn't do a deal because they believed the business was worth $1.5 million to $2 million and Robert's offer valued them lower.
The company grew 20%-100% per month in the year following their appearance. As of August, 2021, they now have 12 retail stores across California, New York, Austin and Atlanta with plans for a half a dozen more in 2021. As of March, 2022, they have 18 stores with plans for three more in 2022. By July, 2022, they opened a 19th store and they have 2 more slated to open later in the summer of 2022. As of October, 2022, they had 21 stores scattered across the USA. Annual revenue is $26 million.
Posts About Buck Mason on Shark Tank Blog
Buck Mason Company Information
Video