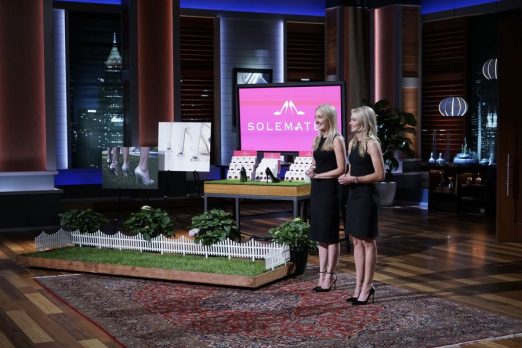 Monica Ferguson and Becca Brown hope the Sharks find a fit for Solemates, their solution that prevents heels from sinking into grass, in Shark Tank episode 803. The two former Goldman Sachs executives and Colombia MBA Graduates started the business in 2009. The flagship product are rubber slip-overs that fit onto women's high-heeled shoes. The product prevents heels from sinking in grass and provides better stability and grip in general.
Solemates evolved from that one product to include a whole line of shoe care products for women who love heels. Their mission: "Improving the lives of the well-heeled with every step."  Their line includes blister blockers, foot cushions, leather protectors, buffs and more.
Prices are modest with most products coming in at less than thirty bucks. They sell in a lot of online outlets like Zappos and Amazon. The company has existed for about seven years, so they must have some successes under their belts. They likely want a Shark to help expand their line.
Will Sharks think this is a well-heeled business and invest?
SoleMates Shark Tank Recap
Monica and Becca enter the Tank seeking $500,000 for 10% of their business. They tell about the love affair women have with their heels and give their pitch. Then they hand out samples. Lori actually tries them on her heels. They brought heels for the male Sharks to try them out and they all do except for Mark. They test the heels on a pad of grass the women brought for demonstration and they work.
Kevin wants to hear numbers. Last year's sales were $1.1 million and they were on track to do $1.5 million in the current year. They're in more than 3000 retail locations like Nordstrom's David's Bridal and more. They invested $100,000 and raised $1 million; they each own 40% of the company.
Lori is the first Shark out saying it wasn't a good investment for her. The numbers don't add up for Mark; he's out. Likewise for Daymond. Robert said he thought the women were creating a new category and offers $500,000 for 25%. Kevin doesn't like the valuation, but offers $100,000 for 10% plus a $400,000 loan. The women ask Robert if he'd go to 20% and he agrees.
SoleMates Shark Tank Update
The Shark Tank Blog constantly provides updates and follow-ups about entrepreneurs who have appeared on the Shark Tank TV show. The deal with Robert didn't close as the two women thought not doing the deal was best for their business. They ended up doing a deal with CVS and are now in over 4000 of their stores. There are new items in the line, too: shoe fresheners, blister protectors, a "winter warrior" collection and more.
As of April, 2023, the company is still chugging along with annual revenues of  $2 million.
Posts About SoleMates on Shark Tank Blog
SoleMates Company Information
Video