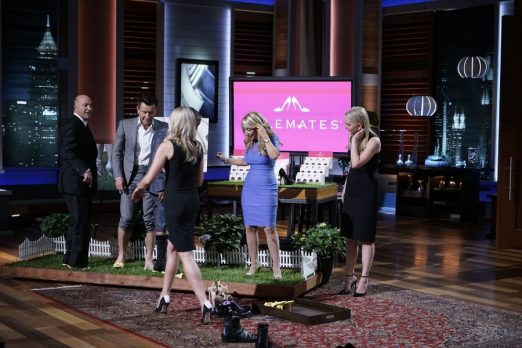 Monica Ferguson and Becca Brown, the founders of Sole Mates, know a thing or two about business. They both have MBA's from Colombia and they're both former Goldman Sachs executives. They decided to leave the corporate world and start a business in 2009, when they founded Sole Mates.
Both women express a passion for shoes. Simply put, they love their heels, but they don't like sinking into grass or wiping out while wearing heels. That's what Sole Mates prevents. It's a little slip on rubber thingy for the spike of a high-heeled shoe – kind of like furniture feet for shoes.
According to their many humorous videos, the product works. They also sell shoe and foot care products in their online store. If they've been in business for 7 years, they must be doing something right. They probably want a Shark to help get SoleMates into big box retail stores.
My Take on Sole Mates
I don't wear heels and neither does my wife. I usually wear my Xeroshoes sandals. Heels aren't my thing. My wife avoids them because she has knee issues. This is an interesting product that serves a need for women in heels and their videos are pretty funny, but no heels means I wouldn't buy it.
For that reason, I'm out.
Are Sharks Well Heeled?
The promos for this segment show Monica and Becca getting "dressed down" by Mr. Wonderful. That could be a bad omen. Oftentimes, MBA's in the Shark Tank get portrayed as being too smart for their own good. That might be the story line here.
That said, this has "Lori" written all over it. It's a moderately priced ($30 on the top end) product with mass appeal and it's easily demonstrated. It would go over well on QVC. Lori brings some heavy-duty marketing clout to the table for what Mr. Wonderful calls "crap" like this. If a Shark bids, it will be Lori.