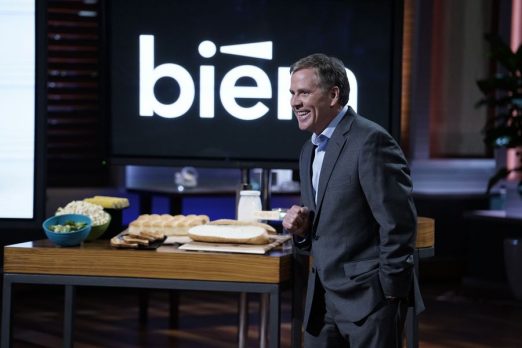 Before inventing the Biem butter sprayer, entrepreneur Doug Foreman founded the Guiltless Gourmet and Beanitos brand snacks. He knows a thing or two about business, but running a consumer snack food company and a kitchen appliance company are two different things. That's why he's coming to the Shark Tank in episode 803: to get some help with the Biem butter sprayer that was a big hit on Kickstarter.
The butter sprayer got a lot of kudos from the gadget press. Everyone thinks it's a good idea. What Biem does is instantly liquefy a stick of butter, without scorching it. This lets users spray liquid butter onto anything. It's a great concept and that's probably why it got backed on Kickstarter.
Unfortunately, there are a lot of delays in delivering the finished product to backers. The project funded in April, 2016 and Foreman is still at least two months away from delivery. Most backers are patient, but there are a few disgruntled by the delays. That list will grow longer if there are more delays.
With any highly engineered appliance, there are bound to be bugs in the production process, particularly in the initial production run. It also gets expensive, which is why Foreman is in the Tank. He likely needs a Shark to further fund production of his butter sprayer and for help with manufacturing.
My Take on the Butter Sprayer
I do a lot of cooking as the chief cook and bottle washer in our family. Whenever possible, I use butter. I have an olive oil sprayer and a vermouth sprayer (for martinis), why not a butter sprayer? I'd use the Biem on a daily basis. We have grilled cheese and tomato soup every Saturday for lunch and this tool would make that an easier chore. Unless you leave your butter out on the counter, it's going to be hard. Instantly softening things up appeals to me as a cook.
As an appliance, it looks cool. It's not bulky and it appears simple to use and clean. I have a few kitchen appliances: a toaster, blender, mixer etc. One more – if it does its job – would not clutter things up. You store the Biem on the counter or in the refrigerator, so it depends on your preference; I'd store mine in the fridge.
Will Sharks be Buttered Up?
The Sharks will recognize Mr. Foreman's past successes and business acumen. He's the real deal. What they'll want to know is how well he knows his numbers and his plan for the product (and future products). I expect Foreman will have all the answers, he doesn't strike me as a seat-of-your-pants type of guy.
The true key to getting a deal for Biem is the value proposition for the Sharks. He's going to need to give up at least ten percent from the outset, or the Sharks won't take his offer seriously. I don't think Foreman wants to give up too much of his business, which will lead to no deal.