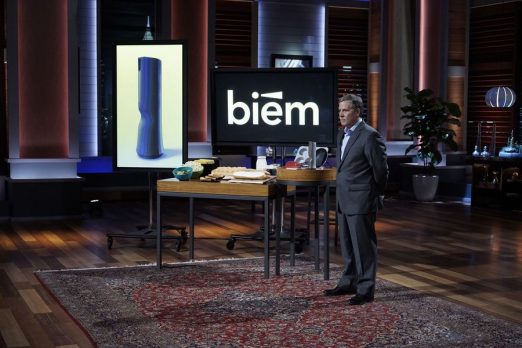 Doug Foreman hopes to butter up the Sharks with Biem (pronounced BEAM), his patent pending kitchen tool that sprays butter. Foreman got tooled up to produce Biem back in April, 2016 when he raised $235,000 in a Kickstarter campaign. Foreman founded Beanitos and Guiltless Gourmet, 2 lines of healthy chips and dips before starting Biem.
The product is patent pending and it turns a solid stick of butter into a liquid spray in seconds. It uses no chemicals or propellants and it sprays butter for perfect grilled cheese and popcorn. It allows for portion control while cooking and liquefies butter without scorching. It operates on a rechargeable battery that's refrigerator safe.
The Kickstarter ended in April, but no units have been delivered yet. The Kickstarter says their September shipping goal was "slightly off." The delays aren't anything Foreman seems too concerned about and he's moving forward with selling on a pre-order basis on his website. It looks like it's going to sell for about $130.
Foreman likely wants a Shark's help with production issues and with mass retail. Will one of the Sharks invest in liquid butter?
Biem Shark Tank Recap
Doug enters seeking $500,000 for 5% of his company. He has a video of the product roll as he explains it to the Sharks. Doug hands out bowls of popcorn and Biems to each Shark. You activate it by lifting it and the machine will only melt the butter you use.
Doug says it costs him $466 to make a unit – which he claims he can reduce with volume – and he sells them for $137. Robert wants to know if there are any other sprayers – Doug says no. He tells Lori he has two pending patents on the device. When Robert asks about the valuation, Doug says he expects to sell 100,000 units in the first year which would be $10 million.
Daymond starts the bidding offering $500,000 for 17.5%. Lori tries to ask a question and Daymond cuts her off. Then Kevin came in at $500,000 for 15%. Lori asks if they could do two models: a high end and a cheaper one without the stainless steel exterior. When Doug said he'd be open to that, Lori offers $600,000 for 20%. Then Robert jumps in and offers $500,00 for 10%.
After some back and forth, Daymond pulls his offer because Doug is being indecisive. When Doug starts fawning over Mark, Robert pulls his offer. Then Doug asks Lori if she'll match Kevin's offer and she agrees, but goes to 14% to sweeten it. Doug takes the deal.
Biem Shark Tank Update
The Shark Tank Blog constantly provides updates and follow-ups about entrepreneurs who have appeared on the Shark Tank TV show. The deal with Lori fell through. Biem had a whole lot of angry Kickstarter backers. The first version didn't work, so they made a Biem 2.0 and the backers had bad things to say. The Better Business Bureau investigated complaints. They now sell on the company website and the business still exists as of February, 2019. The reviews posted on their website are all positive, so perhaps they've worked out the bugs.
As of May, 2021, there hasn't been a Facebook post since December, 2019 and the website has all the sprayers listed as "out of stock." Almost a year later, the website still lists all products as "sold out." Social media has still not been updated and the Kickstarter backers are complaining that they haven't received any product.
As of August, 2022, nothing has changed and the product is still sold out on the website. Foreman still lists the business as "open" on his LinkedIn page, but there are numerous Better Business Bureau complaints against the company for defective or non delivered products and even more complaints on the Kickstarter page. I think this company is done.
Posts About Biem on Shark Tank Blog
Biem Company Information
Video