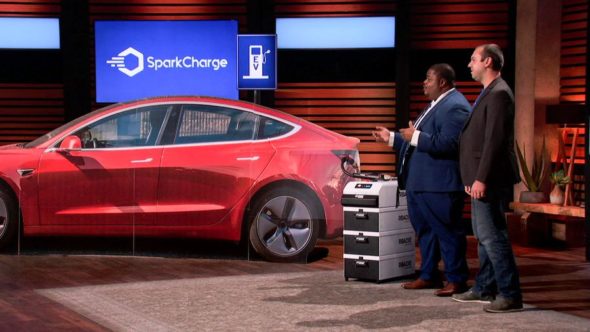 Josh Aviv and Chris Ellis  pitch SparkCharge, their business that seeks the "democratization of energy," in the season twelve Shark Tank premier. The pair co-founded the company with Richard Whitney (who doesn't appear on the show) in 2016. Their product is a portable charging station for electric vehicles. They are the only company that currently manufactures such a device.
Electric vehicles are growing in popularity, but many people have anxiety about taking them on longer trips. SparkCharge helps solve that problem. With extra charging power, people will get more miles out of their electric vehicles. It's like having a spare tire for your battery. The device consists of modules: a charger module and a battery module. The charger weighs in at about 20 pounds and the battery is nearly 50 pounds. Each module is 24 by 13 by 9 inches, so it should be able to fit in most trunks.
They have a manufacturing facility in Buffalo and a lab in Boston. SparkCharge got started with a million dollar prize from 43North, a start-up incubator in Buffalo that hosts the world's largest annual pitch competition. The company should begin production soon. They just received $3.3 million in seed funding in April 2020 from PJC, Revolution's Rise of the Rest Seed Fund, PEAK6 Strategic Capital, M&T Bank, and Tale Venture Partners, While consumers can buy and use them, they expect municipalities, public utilities and fleet operators to be big customers as they make the shift to electric vehicles.
Will they get an investment?
Electric vehicles are projected to be a $350 billion market by the year 2023. With California calling for a halt to the sale of internal combustion vehicles by 2035, the electric vehicle market is huge. Being on the ground floor of the charging side of the business has tremendous upside. Aviv and Ellis hope the Sharks get a charge out of their presentation and join them on their ride to success.
Company Information
Video

Posts about SparkCharge on Shark Tank Blog
SparkCharge Shark Tank Recap
Josh and Chris enter the Shark Tank seeking $1 million for 65% of their business. They tell their story and give their pitch. They have a model on stage. The Sharks want to know if they have a consumer device yet – they don't. The want to sell or lease to roadside assistance companies. Each unit costs $2500, customers put a $1000 deposit then pay a monthly payment. They do plan on a consumer product in the future. Currently, they have 50 units deployed.
Kevin hates the leasing aspect of the business; he's out. Blake doesn't think they can deliver a consumer unit for less than $1000; he's out. Lori likes the concept and asks if Mark will team up with him. They think the company will be a billion dollar company. In a bit of a role reversal, Mark asks the Sparkcharge guys to make them an offer. They offer Mark and Lori $1,000,000 for 10% equity share, 4% advisory shares, and a board seat. They do the deal.
SparkCharge Shark Tank Update
The Shark Tank Blog constantly provides updates and follow-ups about entrepreneurs who have appeared on the Shark Tank TV show. The deal closed – at least with Lori. The company appears on her website but not Mark's. Mark is on the board of directors though, so maybe he just needs to update his website! In March, 2021, the company struck a deal with Allstate Insurance to ramp up The Roadie, a mobile charging service ordered and paid for via a new app. It will roll out initially in Chicago, Los Angeles, San Francisco and San Diego. Aviv believes The Roadie will lead to entrepreneurial opportunities for small business people to offer charging services, too. The Roadie rolled out in June, 2021. In July, 2021, they partnered with a company called Urgently, an up and coming roadside assistance provider. As of November, 2021, annual revenue was $5 million.
In March, 2022, Kia partnered with SparkCharge to offer electric car buyers in San Francisco, San Jose and Los Angeles a two-month free subscription to their Currently mobile charging service. In May, 2022, the company did a $23 million series A round from a consortium of investors. They raised another $7 million in August, 2022. They plan to use the funds to expand in 12 California cities in 2023. In October, 2022, they introduced the Roadie v3 Hybrid, a stationary charging station for fleet operators.
In December, 2022, the company announced plans to expand to San Diego, Phoenix, and New York City in 2023. 2022 sales were $10 million and the company is valued at $110 million.