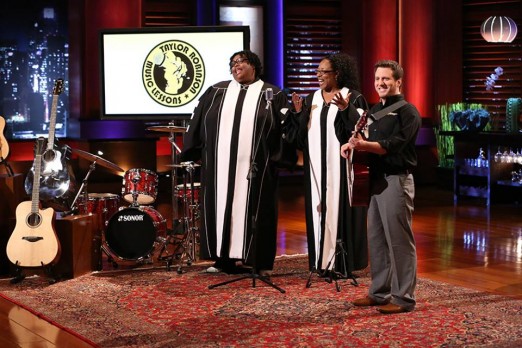 Taylor Robinson Music is the eponymously named company run by Mr. Taylor Robinson who will pitch in Shark Tank Episode 524. Robinson is a professional musician who has a different way of delivering music lessons. Instead of learning from rote in a book, he teaches to "play from the heart" and he uses professional musicians to do the teaching.
Essentially, Taylor Robinson Music matches students with professional musicians in their area and takes a commission or finder's fee. Students can plan lessons around their own schedules. Instructors teach at one of the Taylor Robinson Music partner studios or in their own home; either way, the price is the same. The prices are reasonable too: only $37.50 per hour. The company has been in business since 2005 and has a perfect record with the Better Business Bureau.
Robinson is likely looking for help accelerating his business expansion.
Taylor Robinson Music Shark Tank Recap
Taylor wants $100K for 10% of his growing business. His sales are good: $450K last year and $2.5 million over the past 6 years. His problem is profits due to high customer acquisition costs. He wants the Sharks' money to update his software to allow for a more streamlined system and, hopefully, more profits.
The Sharks aren't buying into his plan. Robert even has misgivings about having a "rock star" come to his home. Ultimately, the Sharks don't think the business is a good investment and they all go "out."
Taylor Robinson Music Shark Tank Update
Even though Taylor Robinson Music didn't get a deal, they experienced the "Shark Tank Effect" in the aftermath of their original air date. The company received over 100 calls from investors the day after the show and nearly 300 that week. The website got  200K  hits with 20K on the site at once! Over 400 new instructors submitted applications. This resulted in a drastic increase in annual sales projected as website visitors continue to convert.
They also announced a MAJOR new partnership with Hohner Inc. putting a Taylor Robinson lesson coupon on 50K instruments world-wide this year alone. Hohner Inc. is one of the worlds largest and most established instrument manufacturers in the world.  Watch the video about the partnership:
Taylor took the Shark's advice to heart and targeted his online marketing to the top 50 markets in the USA. This reduced customer acquisition costs by 80%. The company has over 8,000 active instructors and over 40,000 students. As of August, 2021, they are still in business and earns $2 million in annual revenue.
Posts About Taylor Robinson Music on Shark Tank Blog
Company Information