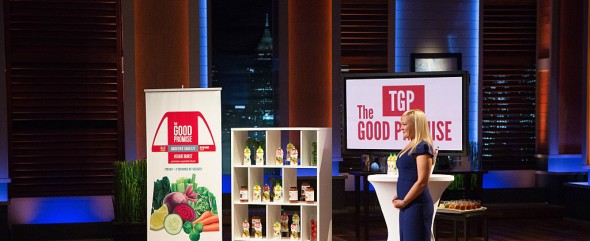 Karen Posada hopes the Sharks like The Good Promise, her line of 100% organic, all natural sauces and smoothies, when they try a taste in Shark Tank episode 725. Originally called "Animeals4Kids" the line features smoothies that contain one and a half servings of vegetables and pasta sauces with beets, carrots, spinach and broccoli. The company's mission is "to manufacture foods that provide vitality, energy and strength, that won't break the bank."
Posada originally created the sauces and smoothies with her mother as a way to get her kids to eat their veggies. The smoothies just came out in new packaging, allowing them to be easier to take on the go. Back in 2013, the sauces were on the shelves in Wal-Mart stores in Texas, but there are no store locations listed on their website.
Karen likely needs a Shark to help with co-packing and getting into stores.
The Good Promise Shark Tank Recap
Karen enters the Tank looking for an investment of $100,000 in return for 20% equity in her company. She hands out samples of her vegetable smoothies, impressing the Sharks with their flavors. Kevin O'Leary, Daymond John, and Lori Greiner agree that the flavors are on the strong side, with Kevin comparing "3 of the 4" to "industrial waste." Karen's not off to a good start.
Robert Herjavec wants to know about sales. Karen explains that their first line was the pasta sauces, and they sold $260,000 in 18 months' time. The vegetable smoothies are a new line, which have been launched in Walmart's Super Centers. The markup on her line of pasta sauces hasn't been high enough to sustain the business. At 23%, her profit is unremarkable. Strike two for Karen with the Sharks may be her lack of a solid profit margin.
The vegetable smoothies sell for $1.99, with a 40% margin. Although this is an improvement, Lori Greiner is not impressed with the flavors. She suggests that reformulation may be in order, and goes out.
Robert Herjavec soon follows Lori's lead, unable to stomach the flavors. He's out.
Daymond John says that, although some consumers will accept "bad taste" if a product provides health benefits, he doesn't believe that healthy eaters will embrace the blends. He's out.
Kevin O'Leary talks about the preparation of escargot, pointing out that the "toxins need to be purged from its intestinal tract before eating." He says the blends "taste like a snail that hasn't been purged," and with that graphic comparison, goes out.
Karen tries to introduce a "post workout" shot that she thinks Mark Cuban will be interested in, but he thinks that her marketing is too ambitious considering the flavors. Mark's "I'm out." is strike three, and Karen leaves the Shark Tank, with no Shark deal.
The Good Promise Shark Tank Update
The Shark Tank Blog constantly provides updates and follow-ups about entrepreneurs who have appeared on the Shark Tank TV show. Once an episode has aired, we monitor the progress of the businesses featured, whether they receive funding or not and report on their progress.
As of November 2016, it appears that the Good Promise's strike out on Shark Tank was a death knell for the company. The social media hasn't been updated since April, and the website returns an error page. In spite of Karen's insistence that consumers would overlook the poor flavor combinations in return for health benefits, it doesn't seem as if she was able to convince enough people to buy her veggie smoothies. While the idea was a good one, it's proof that flavor matters, and that even veggies have to taste good to be a successful product. As of 2021 we can confirm this business is closed for good.
Posts About The Good Promise on Shark Tank Blog
The Good Promise Company Information
Video