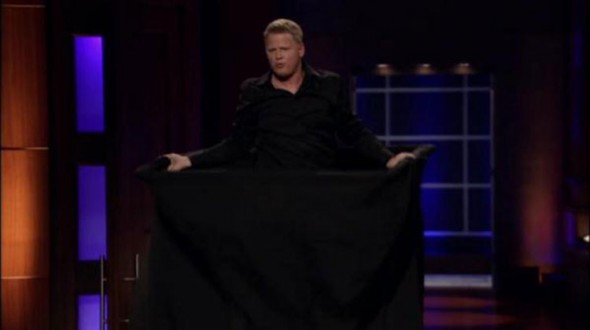 Rick Smith Jr. brings his idea for a new Vegas Magic Show to episode 307 of the Shark Tank. Smith is a magician out of Cleveland who has already appeared on numerous reality television shows and has a following on Youtube. His card tricks are impressive in their lethality, but will he be able to draw blood from the very tough-skinned sharks? Smith wants to create a new entertainment sensation in the crowded streets of Las Vegas. The Sharks might swim with it, or sink the idea.
Vegas Magic Show Shark Tank Recap
Smith comes into the Tank seeking $1.5 million in return for a 20% stake in the company. He begins his presentation with an illusion. A model stands on a crate, lifting a black curtain, and Smith appears from behind the curtain, appearing to replace the woman, who is then released from the crate.
The Sharks are impressed with the presentation, but will they buy the idea of adding yet another show to the already-crowded stages in Vegas? Smith demonstrates his card-throwing skills, having Mark Cuban hold a piece of celery, which he proceeds to slice in half with a card. He invites Kevin O'Leary to join in the illusions, lighting a fire under Mark Cuban's seat. O'Leary leaps off the chair, swearing, having suffered the sensation of burning in his own seat. The trick impresses the Sharks and earns laughs, but will it land Smith a deal?
O'Leary wants to know how he came to a $7.5 million valuation. Smith explains that they're working with a top publicist, and he projects sales of $12 million in the first year. Since Smith made $200,000 in the past year, O'Leary is not happy with the risk. Robert Herjavec agrees with O'Leary.
Who's In?
Smith is sinking fast. Daymond John calls the idea of getting an unknown magician into a Las Vegas venue "absurd." He's out.
Kevin O'Leary says, "This isn't even an intolerable risk. It's an insane risk. I'm out."
Mark Cuban feels that Smith "went for the holy grail," and set his sites too high. He's out.
Robert Herjavec says that "it takes 10-15 years to become an overnight success." He doesn't want to invest that much time into building Smith's career. He's out.
Barbara Corcoran tells Smith that he asked for too much, with too little to show that he's able to deliver. The final Shark is out, and Smith leaves the Tank without a deal.
Vegas Magic Show Shark Tank Update
Smith's defeat in the Shark Tank seems to have slowed down his run at Vegas, but he's still booking smaller venues and building a successful career. His social media pages reveal he's been doing shows for birthday parties, corporate events and proms. Smith seems to have taken Robert Herjavec's prediction, that an overnight success takes a decade or more, to heart, building his brand more slowly and working his way to Vegas, one show at a time.
While Smith has appeared in Vegas in smaller venues, his bread and butter is his website where he sells throwing cards and targets and books corporate and private events. During the Covid-19 pandemic, he began offering virtual magic shows via Zoom. While the pandemic hurt, his net worth as of October, 2022, is around $2 million.
Posts about the Vegas Magic Show on Shark Tank Blog
Rick Smith Magician Card Thrower Shark Tank
Vegas Magic Show Information