Episode 307 – Shark Tank Season 3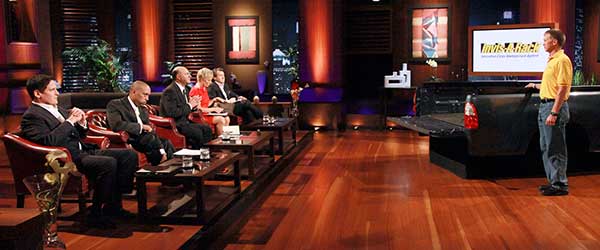 Shark Tank Episode 307 features I want to Draw a Cat for You(Steve Gadlin), Salespreneur(Dave Greco), Professional Magician(Rick Smith) and Invis-a-Rack(Donnie McCall).
In Shark Tank Episode 307, Steve Gadlin from Chicago hopes the Sharks will see "I Want To Draw a Cat for You" service as a worthy business investment. Steve Gadlin puts a deal together with Mark Cuban.
Salespreneur's, Dave Greco tells The Sharks he can sell anything to anyone. Unfortunately, his pitch is off and misses the deal with the Sharks.
Professional Magician, Rick Smith is in the Guinness Word Record Book for throwing cards. He is looking at setting up a Las Vegas Magic Show and his pitching The Sharks on becoming his partner.
Invis-a-Rack Entrepreneur Donny McCall hopes to convince the Sharks to invest in his innovative cargo truck management system, a product he is proud to say is made in America. Will the Sharks fund this All American inventor or will Donny's funding hopes get outsourced?
The other cat business is a follow up segment on CitiKitty, the product that eliminates litter boxes by training cats to poop in the toilet. Entrepreneur Rebecca Rescate was funded in season two by Kevin Harington who invested $100,000 for 20% equity.
CitiKitty did $350,000 in sales the month following the original air date! Rescate has a lot in common with another entrepreneur on this weeks episode: she keeps her manufacturing in the USA. Last summer, Rescate told CNN Money, "the last thing you want is to do this large run in China, you sign off on it, and when it gets here in a container it's all wrong. My manufacturer is located 30 minutes from me, and so I know everything that's going on."
Shark Tank Episode 307 features Barbara Corcoran, Mark Cuban, Robert Herjavec, Daymond John and Kevin O'Leary as the Sharks.
Episode 307  Aired 01/27/12 
CitiKitty – Update