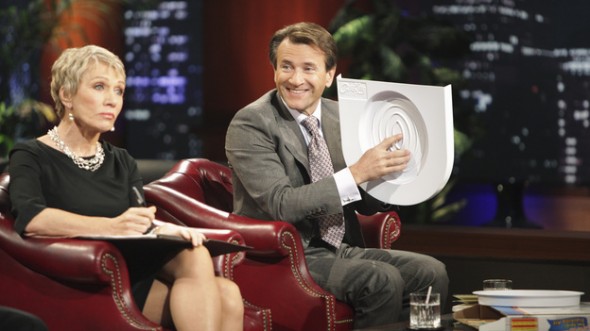 CitiKitty entrepreneur Rebecca Rescate invented the savior product for people who love cats, but hate litter boxes. Her five-week training program and set of cat toilet training inserts allows people to train their cats to do their business on any toilet. Rescate's cat, Samantha, played Robert DiNiro's cat "Jinxy" in the movie  Little Fockers. Jinxy used the toilet in the film and brought HUGE exposure to CitiKitty, even before the product appeared on Shark Tank. CitiKitty is a "training program" for cats that has a series of removable rings that fit in the toilet bowl. The rings gradually increase the opening in the toilet so the cat becomes more comfortable using it over a litter box. Cats also like that the toilet smells better than a litter box. Eventually, cats become trained to use the toilet: NO MORE LITTER BOXES! With over 100 million cats in the USA alone, the market for CitiKitty is enormous.
CitiKitty in the Shark Tank
Rebecca was seeking $100k for a 15% share of the CitiKitty business. This was no start-up venture; CitiKitty had excellent sales figures: Rebecca sold over 40,000 units to the tune of $1.4 million prior to her air date. All sales were from her website and she had virtually no advertising or marketing costs.
Robert thinks it's a cool idea, but isn't interested; he's out. Mr. Wonderful is not a cat person, he's out too. Daymond hems and haws, but he eventually goes out too. Kevin Harrington is Mr. TV and he likes CitiKitty for its mass appeal; he offers $100k for 40%. Barbara likes CitiKitty too, she offers $100k for $15% with the contingency that her TV partner approves the deal.
Rebecca respects Kevin Harrington's TV clout, so she counters with $100K for 20% to Harrington. He goes to 25%. Barbara then drops her contingency agrrement on her deal. Harrington then goes to $100K for 20% and he and Rebecca strike a deal.
CityKitty Shark Tank Update
CityKitty became an even bigger success after appearing in episode 208. Rebecca's sold millions of dollars worth of product and CityKitty has practically become a household name. Rebecca was featured in an update segment in episode 307 in season 3. She'll also be the first Shark Tank entrepreneur to return to the tank with a NEW PRODUCT in episode 415 in season 4. One thing is for sure, Rebecca Rescate is a Shark Tank success story!
Fast Forward to November, 2022, and CityKitty is still selling briskly with close to $16 million in lifetime sales. Rebecca now helps others develop brands for an equity stake. She's currently involved with five companies (including CityKitty) and had a successful exit with a sixth.
Posts about CitiKitty on Shark Tank Blog
Rebecca Rescate Returns: An Interview
Rebecca Rescate on Building Successful Businesses
Company Information
BUY CitiKitty