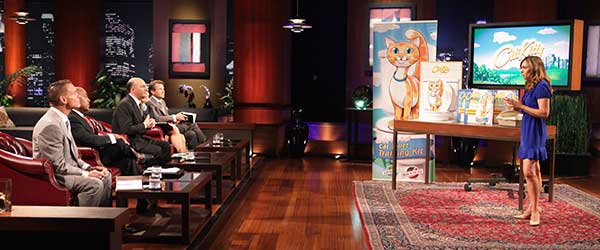 CitiKitty, Rebecca Rescate brings toilet trained kitty's on Shark Tank to make her funding pitch to the Angel Investors in the season finale.
Rebecca Rescate asks the Sharks to give her $100,000 in exchange for 15% of the CittiKitty toilet training company. That's not likely to happen because she only did $350,000 in sales last year. If they bite, they are going to ask for a much higher ownership stake.
NOTE: This post was originally written for my personal blog
before the original episode aired
I wonder if Rebecca Rescate owns the patent on this toilet training product? If she did, she needs to pursue competitor Litter Kwitter who has almost the same product. This product claims to have won invention awards in 2005 which is the same year that Rebecca Rescate says she started CitiKitty, cat toilet training system.
CitiKitty does have a unique feature that I didn't see available with the competitor. She has a self-flushing feature that keeps you from finishing the job!
She claims that she researched many homemade solutions to training a cat to use the toilet when she moved into a small apartment in New York City. She determined she could simplify the process and created her own solution.
I've seen the clips from her presentation to the Sharks. I enjoyed her response to Kevin O'Leary where she says, "You like to make money, don't you?" That was smooth. I wonder if the rest of the pitch will be as good, or if the clip was the best.
She's going to face some tough questions, I don't think she'll get funded, but like I said before, investors make emotional decisions and her personality might give her the edge on making a deal.
If I only had CittyKitty when I was a kid and had to clean out the litter box, life would have been so much better!
(What Happened) Wow, Kevin Harrington and Barbara fight for the deal. She takes Kevin at $100,000.00 for 20% vs. Barbara's offer at $100,000 at 15%.