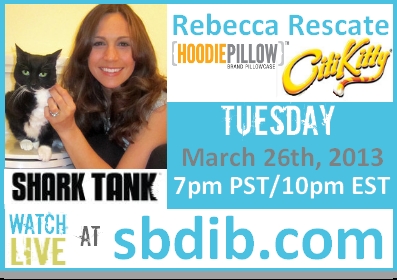 I had the pleasure of co-hosting the Small Businesses Do it Better show on Tuesday, March 26th and I got to talk with Rebecca Rescate about building successful businesses. Rebecca is no stranger to building successful businesses, she's been successful on Shark tank twice with two different products: CitiKitty and The Hoodie Pillow. As co-host for the show, I got to ask Rebecca a bunch of questions while show host, Carissa Dunphy, took on a moderator-like role.
In addition to her two Shark Tank success stories, Rebecca wants to be a "mini-shark" herself by building successful businesses with new strategic partners. She does consulting with small businesses and supplies a roadmap for success to help start-ups with branding, patents, legal matters, and PR. She thinks the start-up phase is the most exciting part of building a successful business and she's willing to share her expertise, and, in some cases, her investment to help a start-up. While Rebecca doesn't think she has the "billions" to be a Shark, she'd love to be on that stage. If she keeps launching successful products, she'll get there!
Building Successful Businesses Online
We also talked about how she sells products online. Rebecca has many sales channels for her online product sales, including Amazon, Ebay, Wayfair, and direct sales on her own sites. She's a firm believer in taking care of the fulfillment herself to maximize profits and she offered some keen insights into building successful businesses with a diversified online sales model.
Rebecca packed a lot of good information into our 25 minute segment. Whether you're interested in entrepreneurship or you just like Shark Tank, take the time to watch the video.
If you'd like to meet Rebecca in person, she does a lot of speaking gigs. Upcoming engagements include:
March 28, 2013 – Babson College; New York, NY
Judge for 4th Annual RocketPitch Competition
April 4, 2013 – Eastern University; Wayne, PA
Judge for 2nd Annual Shark Tank Competition
April 9, 2013 – Northeastern University; Boston, MA
Speaker – Northeastern University Entrepreneurs Club