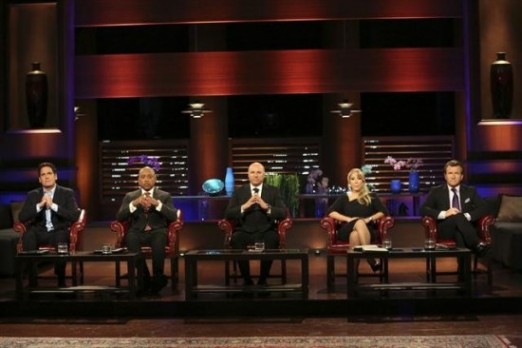 Shark Tank returns with an all new episode on Friday, March 29. Lori Greiner occupies the Tank along with Mark Cuban, Daymond John, Kevin "Mr. Wonderful" O'Leary, and Robert Herjavec as four new entrepreneurs pitch the seasoned investors hoping for an investment in their respective businesses.
Friday, March 29 Entrepreneurs
There are four varied and interesting businesses appearing on Friday, March 29 in episode 419.  There are just 6 more episodes left in season 4, the biggest and best Shark Tank season to date.
Traditional Fisheries is a business that sells Lionfish filets. The Lionfish is a non-native, invasive species in the southern Atlantic Ocean and Caribbean Sea that's wreaking havoc on the reef ecosystems. In order to help control the explosive population of Lionfish, actively fishing for and catching them is encouraged. Since Lionfish are good to eat, entrepreneurs Gary Groomes and Dave Johnson hope the Sharks will sink their teeth into the business.
Cool Wraps entrepreneur Jeffrey Miller hopes the Sharks will like his shrink-wrap gift bags which allow even the most inept gift wrapper to have professional looking results. Simply insert a gift into a bag and blast it with a hair dryer and your gift looks like Martha Stewart herself wrapped it up!
Drop Stop is a gizmo that keeps items from falling into the gap between a car seat and the center console. After years of losing and retrieving items from The Carmuda Triangle,  entrepreneurs Marc Newburger and Jeffrey Simon hope the Sharks invest in their Made for TV product. !Click Here For a Spoiler!
Simple Sugars entrepreneur Lani Lazarri invented her line of sugar scrubs when she was only 11 years old! The now 18-year-old young entrepreneur hopes the Sharks will be sweet on her all natural skin care products made from cane sugar and other all-natural ingredients.
The update segment for Friday, March 29 is BuggyBeds, the bed bug early detection system funded in the season four premier (episode 402) by all five Sharks. Co-owner and CEO of BuggyBeds Maria Curcio told Shark Tank Blog the update segment filmed for BuggyBeds in late November, 2012.