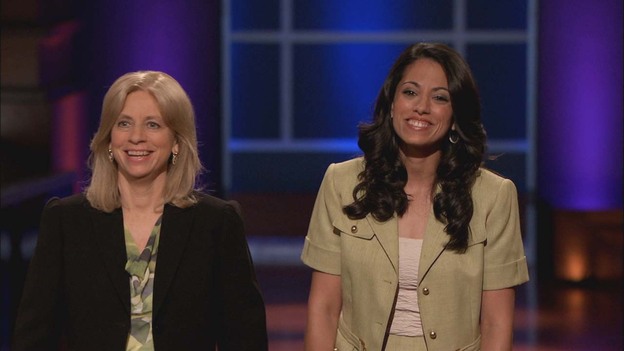 Every entrepreneur who appears on Shark Tank wants to have an update segment filmed; that means they've been successful. Maria Curcio and partner Veronica Periongo, the women who scored an investment from ALL FIVE Sharks in episode 402, are getting their update segment just a few months after their original air date. The Sharks invested in BuggyBeds, an early bed bug detection product, that has gone from measured growth to a global powerhouse in less than a year. Since episode 402 is re-running on 12/7/12, I gave Maria a call to see how things were going at BuggyBeds.
Filming BuggyBeds Update Segment
Maria told me the camera crews were down in Freehold, NJ filming an update segment for Shark Tank in late November. "They shot the update segment in our homes, since we started the company out of the garage. We also shot at our new 6,000 square foot warehouse and at a Home Depot where we sell a lot of our product." Maria was very excited about the film crews, even though no Sharks showed up for filming. "The past year has been amazing," she continued, "we've had increasing sales every month since February."
Maria wasn't sure when the update segment would air, but I suspect it will be some time in January. That's probably why ABC is re-running the BuggyBeds episode now, so the business will still be fresh in fans' minds.
Shark Investment Stalled
I asked how things were going with the Sharks. "We haven't closed the deal with Sharks. We're still in due diligence, but there are some stumbling blocks with legal issues surrounding our women owned company certification." Maria went on to say that in order for a company to retain its certification as a women owned company, women need to control 51% or more of ownership. There are other investors so "the Sharks complicate that situation," she said.
BuggyBeds Progress
Shark Tank doesn't film an update segment unless the company featured is a success story. BuggyBeds has grown by leaps and bounds since their September air date. "We'll be in over 600 Home Depot stores in the next few weeks. We're also talking to WalMart and we've just been certified to sell in Canada, we'll be on a Canadian Home Shopping Network and over 200 stores up there too. We've been getting calls from all over the world; we'll be in 23 countries by February. My head is spinning reading all the different languages on the packaging!"
In addition to BuggyBeds' growing retail presence, online sales have been strong. "It's a real testament to the quality of our product when people are willing to pay $15-$30 to have it shipped to another country. We've been endorsed by housing authorities, we were the product of the month for several months on Smart Mommies' Top Ten Things to Buy, it's been overwhelming. Veronica and I have been working 15-20 hours a day since September but we haven't had to make one cold call; we have calls coming in from all over the world."
Besides running a growing global business, Maria, who is sometimes called "Mrs. Wonderful," is doing paid speaking gigs and appearing on morning TV shows. She stays pretty busy! "We've been getting proposals from other inventors, too. Every insect trap inventor wants to work with us. We even had a guy pitch us a hamburger product!"
For now, Maria and Veronica are busy growing their business. They'll be watching Shark Tank and keeping an eye out for their update segment in the weeks to come. Tonight's re-run happens to come on Maria's 50th birthday. "I can't imagine a better present!"