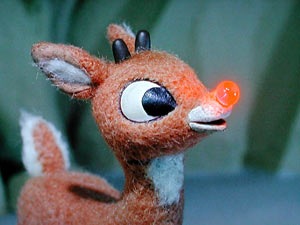 Rudolph the Red Nosed Reindeer isn't a character you'd associate with Shark Tank, but the iconic Holiday Special featuring everyone's favorite misfit reindeer trounced the Shark Tank Holiday special by 3.3 million viewers last week. Since "only" 6.8 million viewers saw Shark Tank on December 4, a drop of around 11% from Friday night numbers, ABC has elected to re-run the Holiday episode again on Friday December 14.
The Shark Tank Holiday Special featured everything that fans love about Shark Tank: a sound business that gets funded; an outrageous and funny pitch by an entertaining entrepreneur; a heart warming, Christmas themed pitch; and the ever popular "train wreck." Despite having all these elements in place, Rudolph the Red Nosed Reindeer still trounced Shark Tank!
Rudolph the Red Nosed Reindeer back at North Pole for Re-Run
Rudolph the Red Nosed Reindeer won't be competing with the re-run of the Shark Tank Holiday Special. Shark Tank will move back to its new regular time slot of 9 PM on Friday nights. A few weeks ago, I speculated that ABC was mulling over a change for Shark Tank to Tuesday night. The December 4 air date, I guessed, was a test of sorts. ABC seems to be recoiling due to the trouncing Shark Tank got from Rudolph the Red Nosed Reindeer. Why else would they re-run the holiday show only ten days after it initially aired?
Needless to say, ABC won't have Rudolph the Red Nosed Reindeer to worry about on Friday, but there are two other Christmas specials on the docket for CBS in the 9 PM time slot. Yes, Virginia: There Is a Santa Claus and Elf on the Shelf will be competing against Shark Tank this week. Whether these two specials will have the ratings juice of Rudolph the Red Nosed Reindeer remains to be seen.
Whether or not Shark Tank gets trounced once again by CBS' holiday offerings this Friday, it will be interesting to see what ABC does with Shark Tank in 2013. If they opt to stick with Friday or air Shark Tank on Tuesday, Shark Tank won't have to worry about Rudolph the Red Nosed Reindeer again until next December!