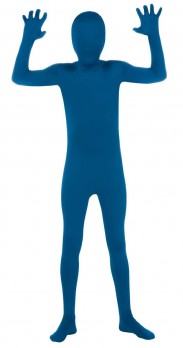 Spandex body suits come dancing into the Shark Tank in episode 426 as entrepreneur Colin Grussing pitches Root Suits to the Sharks. Grussing started the business in 2008 when he went looking for spandex body suits for sale and couldn't find any. Sensing a void in the marketplace, Grussing started Root Suit to make spandex body suits available to the masses!
Colin and his team sourced, designed, and manufactured the spandex body suits themselves. When the first shipment arrived, they put them on and went out partying in New Orleans' French Quarter. The suits were a hit with the crowd and gained a loyal following. By 2010, they got some good media attention and were on a roll.
Spandex Body Suits Competition
As their business grew, so did the competition. Other companies started popping up and selling similar spandex body suits. By maintaining their committment to quality and customer service, the copycat companies helped grow the Root Suit brand. They are now global and a recognized leader in spandex body suits.
Is Root Suit a Viable Business?
I couldn't find any data on the global market size for spandex body suits, but I would consider these a novelty item. It's a fun product that many people, including myself, would love to have in their "wardrobe." Halloween is probably a big sales period for Root Suits, but there are enough fun-loving people out there who wear them in all kinds of situations. The Root Suit website is chock full of photos and videos of people doing wacky things in a Root Suit. The company has been in business 5 years and they claim to be a global brand, so the business is obviously viable. They are probably using the Shark Tank to amp things up a notch or two.
Do Sharks Wear Spandex?
This is a tough call. I am willing to bet Root Suit has excellent numbers and sales figures that will cause the Sharks to sit up straight and take notice. You just don't spend 5 years building a business without turning a profit. The question will be whether the Sharks think the return on their investment is big enough. I expect a couple of offers from the panel.
In email communications with Mr. Grussing, he said Root Suit has become "mostly automated" and he has "a lot more time on his hands." Whether this automation was shark related or not remains a mystery for now, but I'm thinking Root Suit gets a deal. I am "IN!"