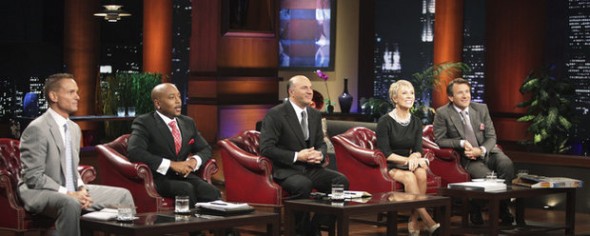 Episode 208 is the Shark Tank season 2 finale. Four entrepreneurs attempt to get a Shark to invest and partner in their businesses. Rebecca Rescate pitches her successful toilet training product for cats called CityKitty. Kim Preis looks to expand her business, Samson Martin, that creates designer tee-shirts for pregnant women – complete with the due date. Aldo Orta introduces his line of classically inspired jewelry for the masses. Dominique McClain Barteet hopes to find a fit for One Sole Shoes, her line of shoes with interchangeable tops.
Which entrepreneur catches a Shark?
Shark Tank features success stories about past businesses on a regular basis. Episode 208 gives fans an update on Jeff Cohen and his son Josh who turned down a deal with Mr. Wonderful for Voyage Air Guitar in episode 103 in season 1.
There are 9 Shark Tank Episodes for Season 2. If you would like to appear on the show, check out our Auditions and Casting information.
Episode 208 – The Shark Investors and Entrepreneurs
The Shark Tank Episode 208 entrepreneurs make their best pitch to the panel of five Sharks who invest their own money if they like a business. The Shark Investors negotiate on the spot without any previous information, which differs from normal negotiations with investors.
Companies pitching the Shark Investors must go through a rigorous due diligence process before the deal made on the air is completed. Shark Tank Blog follow ups help you keep track of the companies that end up successful and the ones that don't complete their deal.
Thank you for reading Shark Tank Blog, the number one site for Entrepreneurs, Investors and Fans. Our content is updated multiple times day, giving you the latest information on Episode 208, Season 2 and all other seasons and episodes.