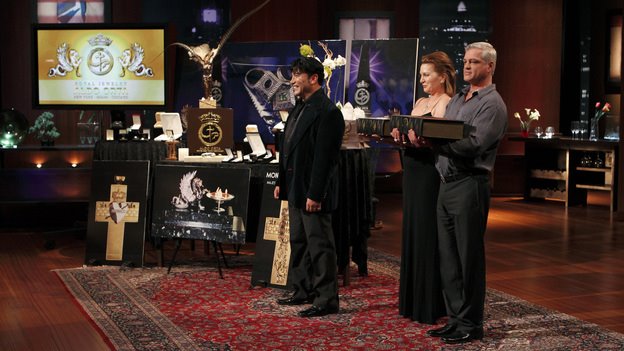 In episode 208, the Sharks meet Aldo Orta, who presents his line of Aldo Orta Jewelry. Orta received his first Fine Arts degree in his native Mexico City, before relocating to Los Angeles, where he pursued a second degree from UCLA.
Although he began his artistic pursuits in a study of environmental design, creating sets for video shoots and staged designs for concerts, he gravitated toward jewelry. Fascinated with spirituality and mythology, Orta incorporates artwork into his designs that reflects his Mexican heritage, as well as mythologies from around the world. Will the Sharks see value in his artistic talents?
Aldo Orta Jewelry Shark Tank Recap
Orta comes to the Sharks requesting $180,000 for 45% of his business. He explains that his clients, thus far, have been celebrities and political figures. He wants to bring his designs to a more affordable market, putting the jewelry in reach of the average wearer. Next, he passes out examples of his pieces, impressing the Sharks with the quality of his work.
Robert Herjavec wants to know about the inspiration behind Orta's designs. Orta explains that he draws upon a variety of cultural symbols and mythological figures in an effort to promote unity and celebrate life.
The Sharks question whether the extravagant designs will translate to the mass retail market. They want to know if he can design a line that retails for under $200. Kevin O'Leary wants to know, "Is this mainstream enough that Mrs. Lubinski in Des Moines wants this stuff?"
Kevin Harrington wants to know if Orta has approached television sale outlets. Orta explains that QVC wants his designs, but requires a $50,000 buy in. Harrington is concerned about Orta's lack of experience in selling to the mass market.
Kevin O'Leary believes that Orta himself is the value of the company, and he feels the investment is too risky. He's out. Daymond John doesn't believe that, in the current economic client, people are buying jewelry. He's out. Robert Herjavec thinks that the price point is too high for middle America's large scale market. He's out.
Barbara Corcoran praises Orta's passion and overall look. She makes an offer- half the investment Orta is asking for, with the QVC deal as a contingency. Orta must convince one more Shark to buy in. Kevin Harrington has connections with QVC. He's been on the fence, but with Corcoran's participation, he offers the other half. Orta has struck a deal.
Aldo Orta Jewelry Shark Tank Update
The deal with the Sharks never closed, but Orta's line of jewelry and accessories has taken off. In episode 411, his success was featured in an update segment. Today, his website advertises not only personal jewelry, but artwork for the home, including sculptures and other pieces of art.  He was also hired by QVC as a jewelry designer. As of July, 2021, he is still cranking out the jewelry. Reliable revenue figures are unavailable at this time.
Posts About Aldo Orta Jewelry on Shark Tank Blog
Aldo Orta Update Season 2 Entrepreneur Succeeds
Will Shark Tank's Daymond John Bite on Aldo Orta Jewelry?
Aldo Orta Jewelry Information