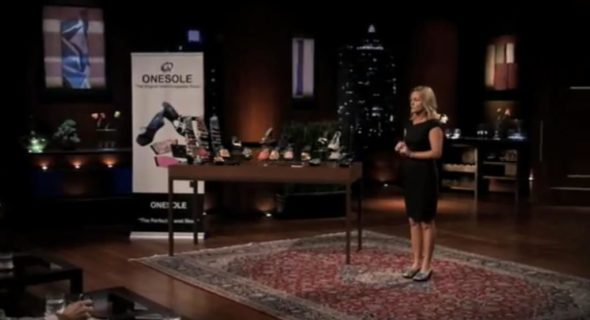 Dominique McClain Barteet brings her product, One Sole Shoes, to episode 208 of the Shark Tank. Barteet began her career as a pharmacist. After buying several of the same pair of shoes in various colors, she decided there had to be a better way to love her shoes without investing hundreds in multiple similar pairs just to get different colors.
She began experimenting with solutions, and hit upon One Sole Shoes, a shoe with interchangeable pieces, allowing the wearer to change the style and color of their footwear quickly and easily. One Sole has particular appeal for travelers. Multiple tops for each sole allows women to carry as many pairs of shoes as they like without taking up valuable luggage space. Barteet's early success has created a strong brand that should catch the Sharks' interest.
One Sole Shoes Shark Tank Recap
Barteet comes to the Sharks seeking $500,000 for 20% equity in her company. She gives a brief demonstration of the shoes, and invites Barbara Corcoran to try a pair on. Corcoran calls the shoes "heaven," clearly impressed with the comfort.
Kevin O'Leary questions the valuation of the company, until he hears that Barteet has over $20 million in sales, and that her product is in 30 countries. The current year's sales are over $4 million, and her profits are clearing $1 million a year. She has patents, trademarks, and copyrights.
Barteet has come to the Shark Tank looking for a partner. She doesn't feel she has the proper contacts and distribution network to take One Sole Shoes fully into the retail market. The Sharks are impressed by her numbers.
Kevin O'Leary wants to know if she'd consider selling the entire business. It's clear that she's piqued the Sharks' interest. Robert Herjavec makes the first offer. He's willing to go in for $100,000 for 10% of the business, if Daymond John, Kevin Harrington, Kevin O'Leary and Barbara Corcoran will each come in for an additional $100,000 and 10% each. Before Barteet can respond, Daymond John offers $500,000 for 35%, cutting the other Sharks out of the deal.
Barbara Corcoran declines to make an offer, saying that the company would take too much of her time. Kevin O'Leary offers to buy the company outright, selling it to recoup the investment and make them both rich. Barteet turns him down.
Kevin Harrington and Robert Herjavec make one more attempt, offering $500,000 split between the two of them for 50% of the company. With two offers on the table, Barteet accepts Daymond John's deal for $500,000 in exchange for 35% of the company. She's got herself a Shark deal, and a partner in her One Sole business.
One Sole Shoes Shark Tank Update
Since accepting the Shark deal, Barteet has taken her brand to a whole new level. One Sole Shoes is now an internationally known brand and Barteet's days of running a mail order pharmacy and running her shoe business out of the back room are long behind her. These days, she spends her time encouraging other entrepreneurs to follow their dreams, and has even been known to invest her own profits into newly budding businesses. She's gone from One Sole to success, with a little help from the Sharks.
Recently, Dominique's been seeking to license One Sole Shoes or sell the business outright. She's looking to cash in on her wildly successful business and retire in comfort.
As of January, 2023, the company is still in business. When she finally does retire, Dominique should be all set: the company does $6 million in revenue yearly.
Posts About One Sole Shoes on Shark Tank Blog
Onesole Dominique Barteet Interview Part 1
One Sole Dominique Barteet Interview Part 2
One Sole Entrepreneur Dominique Barteet Shark Tank Preview
One Sole Shoes Company Information