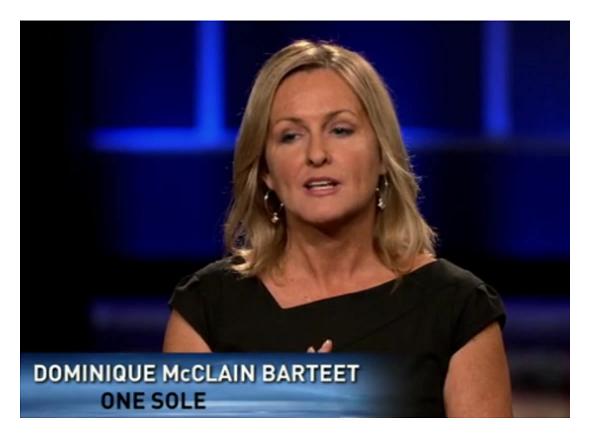 One Sole inventor Dominique Barteet was a big hit on the season two finale of Shark Tank. She is a confident, successful woman who carried herself very well in front of the Sharks and left with a deal with Daymond John for 35% of her company. She originally invented One Sole Shoes to travel with less shoes. The interchangeable tops take up much less space than multiple shoes when traveling. When Dominique first appeared on the show, her business was at a level not seen by most businesses: her shoes were being sold in over 2,000 stores in over 30 countries and she had sales of $20 million over four years. The best part is, Dominique still called One Sole a "hobby." When she appeared on the show, she had all the right answers for the sharks and had several offers on the table.
I had the opportunity to speak with Dominique on the phone last week. The woman I spoke to was just as intelligent as she was portrayed on TV, but she was definitely in a much higher gear! I caught Dominique in the middle of a nationwide Costco "roadshow" tour and she was clearly feeling the pressure of a busy schedule. "I'm always travelling for business," she said, "I am going to Costcos in Atlanta, Dallas, Houston- you name it."
Dominique Barteet: Entrepreneur
The life of an entrepreneur wasn't always in the cards for Dominique. She originally joined the Air Force for scholarship money, but "after six weeks of OCS, I wanted out. The recruiter lied [about the term of service], so I was able to get out." She went to the College of Charlestown Medical School where she trained to be a pharmacist. Her pharmacy business has been up and running since 1999 and was her primary business before launching One Sole. "I basically got bored with the pharmacy business and started making shoes. A lot of my friends said 'you can't do that,' which made me want to!"
Her shoe business took off and Dominique actually had to move her pharmacy to her manufacturing facility in Palm Beach, Florida. It's an independent pharmacy that deals primarily in mail order prescriptions; Dominique bills it as "the pharmacy to the stars" as she has many celebrity customers. While all the One Sole shoes are still made in Palm Beach, "it's getting harder to fill orders. We are trying to source manufacturing now." Former Heisman Trophy winner Herschel Walker tried to help her source to Mexico, "but nothing came of it," she said. "I think he just wanted to date me!" Dominique  counts another famous running back, Cleveland Gary, as a former suitor as well. Gary played four years in the NFL and led the league in rushing touchdowns with 14 in 1990; he also owns also owns The Healthway Shopping Network and the Black Shopping Channel.
Dominique explained that she never actually applied for the Shark Tank, at least not in the traditional sense. "They approached me at The Magic Show in Las Vegas (a popular apparel trade show) and asked if I would like to be on the show. They called me twice and I went on. I was surprised when they said I was going to air, especially as the season finale."
Apparently Dominique's performance on Shark Tank and her current cache' has piqued the interest of other reality TV producers. She recently met with MGM executives to discuss the "angle" for her (hopefully) soon-to-be produced reality show. "We had a meeting to decide whether we wanted to be the Kardashians, Cake Boss, or Rachel and Zoey. We haven't quite decided yet, but seeing as I have dated two running backs, we could go the Kardashian route! It's going to be the life and times of the pharmacy and the shoe business. My son- a new lawyer- is part of the show and we'll clash a lot."
We talked for quite a while, so I will be splitting this piece into one or two more posts. Before you read the second part of the interview, watch Dominique's Shark Tank segment.