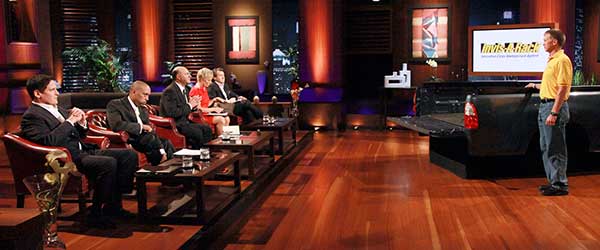 Invis a Rack is a retractable pick-up truck rack system created by life-long inventor and "entrepreneurial Patriot," Donny McCall. The product premiered in season 3, episode 307 and Donny has a Shark Tank update in season 4, episode 418. The Invis-a-Rack idea sprung from Donny's wife who hated driving around in a truck with racks on it. Donny made his truck racks retractable, so they remained hidden when not in use. It's a simple, practical idea for folks who need truck racks but want an aesthetically pleasing ride when not working. Donny manufactures the Invis a Rack in near his home with parts made in the USA. He believes more products need to be manufactured right here in America to create good jobs.
Invis a Rack in the Shark Tank
Donny was asking for $100K for 10% of Invis a Rack. As of taping, Invis a Rack racked up $50K in sales, but the business isn't profitable yet. He claims response to the racks at trade shows is positive and he tells the Sharks he's committed to manufacturing in the USA.
He presents his product, explaining that he invented Invis-A-Rack because of his wife. She refused to ride with him when his truck "looked like a work truck all the time."
He demonstrates how the Invis-A-Rack can be assembled, and disassembled in under 30 seconds. He's sold 150 units thus far, making a profit of about $50,000. The Invis-A-Rack currently costs about $250 to make, and distributors only want to pay around $300 per unit. To be profitable, McCall would have to be able to manufacture the product for around $150, a cost that might not be possible while manufacturing in the US.
McCall wants to use the investment to create point of purchase displays, in order to encourage retailers to buy the product. Daymond John doesn't believe his price point is accurate, and McCall refuses to consider going overseas in order to reduce costs. That is a sticking point. The Sharks tell him that success with overseas manufacturing would allow him to grow his business here in the US, but McCall sticks to his priorities.
Who's In?
Barbara Corcoran calls him "particularly resistant and close minded, and that's a very bad partner to be in business with." She's out.
Kevin O'Leary points out that Apple makes its products offshore, and employs thousands in the US in sales. He tells McCall that he doesn't believe he "wants to do what it takes." He's out.
Daymond John believes there are three phases of life: Make it, master it, matter. He believes McCall is trying to do "all three at once," unsuccessfully. He's out.
McCall appeals to Robert Herjavec as a factory-worker's son. Herjavec tells McCall that "it's a global economy…. We're all immigrants. We never would've had the opportunity to come here, if everybody felt that way." Becoming emotional, he talks about his father's early days, sweeping floors in a factory, and says that he believes America can compete in a global economy. He says he "just can't get involved in something where you're not taking care of the business." He's out.
Mark Cuban likes McCall's ideal of building the product in America, but he feels the business is "very capital intensive," and that without going overseas, he simply doesn't see the business succeeding. The final Shark is out, and McCall leaves the stage without a Shark deal.
Invis a Rack Shark Tank Update
In the aftermath of episode 307, Donny McCall became somewhat of a folk hero to the made in the USA crowd. He won popular sentiment for his stand against the Sharks. While the initial airing generated a lot of interest in Invis a Rack, it didn't translate to many sales. In the weeks and months that followed, sales picked up and Donny made another production run that put Invis a Rack in the black. ABC's Made in America did a feature on Invis a Rack and Donny became the new poster child for rejuvenating American manufacturing.
In October, 2012, Dee Zee Inc., a leading manufacturer of light truck accessories distributing to all major "aftermarket" segments, acquired world-wide, exclusive licensing rights to Invis a Rack. They liked the product, they liked Donny, and Dee Zee is committed to US manufacturers. In February, 2013, Invis a Rack is featured in an update segment in season 4, episode 418 where they announce the licensing deal. This is one of the most popular and inspiring Shark Tank Success Stories ever.
Donny is doing fine. As of May, 2022. He runs three businesses. Perrycraft is the company he's owned for 35 years and where he developed Invis a Rack. They manufacture roof racks, truck racks etc. for the automotive aftermarket. Pinpoint is a digital marketing agency he owns that focuses on local marketing. He also runs Get Outside Events, LLC that runs outdoor sporting events.
Posts about Invis a Rack on Shark Tank Blog
6 Reasons Shark Tank is Good for the American Psyche
Emotions Roll During Shark Tank Pitch by Donnie McCall
Company Information