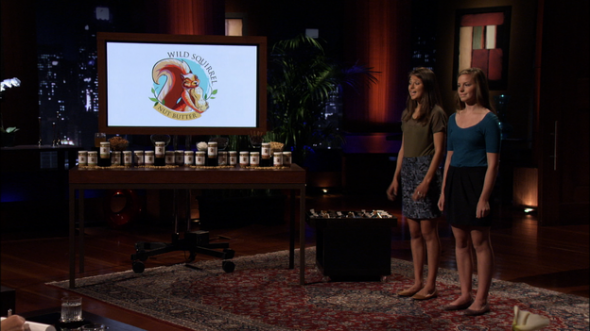 Wild Squirrel Nut Butter appeared in episode 315 in season three. The business was started by college room-mates Keeley Tillotson & Ericka Welsh when the peanut butter they had been making in their college apartment became popular among their friends who encouraged the young entrepreneurs to sell their product at local farmer's markets. The  two young women soon had markets in Oregon and the northwest interested in their product and the business began to grow. Offering flavors like "Vanilla Espresso" and "Chocolate Coconut," This stuff is not your run of the mill peanut butter.
The Wild Squirrel Nut Butter Pitch
Keeley and Ericka went into the Shark Tank seeking a $50K investment for a 10% share in the business. When they first appeared on Shark Tank, they had sold several thousand jars of peanut butter. The company had about $14K in sales and $7,000 in profits; they were set to roll out on supermarkets shelves in Oregon.
Daymond is not a "food guy," so he went out quickly. Robert doesn't believe the girls can balance going to college and running a business, so he's out too. Mark agrees with Robert and goes out. Mr. Wonderful thinks the peanut butter market is too competitive and they will be crushed by the big brands; he's out.
That leaves Barbara. She likes the girls, but thinks the deal will take a lot more money. She offers $50K for 40% of the business. Keeley and Ericka try to get her to come down to 35%, but Barbara won't budge. They eventually agree to a deal for $50K for 40%.
Wild Squirrel Nut Butter Shark Tank Update
Barbara's involvement with the business ended with the on air negotiations. During due diligence, Keeley and Ericka decided to go it alone and forego Barbara's investment. In the aftermath of the Shark Tank, they received a lot of inquiries . The products were on nearly two hundred super market shelves by the time their original segment aired and it is poised to be a nationally distributed brand in 2013.
The success of the business did not go unnoticed by the Shark Tank producers. The company is featured in a follow-up segment during episode 412 in season 4. Whether they ended up with a Shark or not, Keely and Ericka have left school to focus on their business and they took it to the next level. Perhaps Wild Squirrel Nut Butter will become a household name, right up there with Skippy and Jif!
Wild Squirrel won't be a household word as the company rebranded to Wild Friends Nut Butter in 2016 after being sued by Squirrel Brand, another peanut butter maker, for copyright infringement. . They have product on the shelves at Whole Foods, Costco, Kroger and a number of other supermarkets. Sales in 2016 were $6 million. The same year, they raised $1.4 million from investors on CircleUp. Keeley's dad, a former salesman for Honest Tea, travels the country getting the product on shelves.
In 2018, the company added a line of oats and nut butter cups and single serve nut butter packets to the line. Also in 2018, they did another round of funding that raised $3.5 million. The company also brought on Beth Hanson, a former  General Mills executive, as VP of Sales and Christina McCalla, formerly of Annie's, as director of marketing. Fast forward to January, 2023, and the company has over $14 million in annual revenue.
Posts about Wild Squirrel Nut Butter on SharkTankBlog
Company Information
Purchase Wild Squirrel Nut Butter