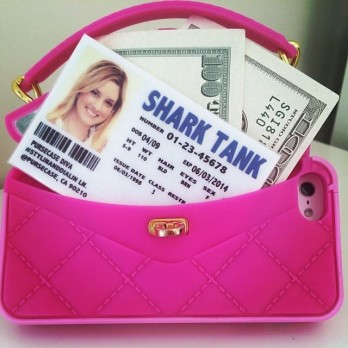 LA Publicists and entrepreneurs Jenn Deese and Kelley Coughlan hope to get the Sharks "stylin' and dialin'" with their cell phone purse combo called Purse Case in Episode 511. The young women ran a successful Kickstarter campaign last spring (2013) and raised over $35K to fund the first production run. They've been using their mad PR skills to spread the word since. Appearing on Shark Tank can only help create more buzz for their cell phone purse.
The Purse Case is an iPhone or Samsung Galaxy S4 case with storage for cash, credit cards and a license, all rolled into what looks like a stylish little clutch purse. They come in 6 bright colors and sell for $29 each with shipping included. As of this writing, they're only available on the Purse Case website, but a deal with the Sharks could change that quickly.
My Take on Purse Case
My cell phone contract runs through January 2014, so I won't be getting an iPhone until next year. I have a smart phone now, but it's in the remedial class! When I get my iPhone, I will get a case for it (maybe a Cell Helmet). I will NOT be getting a cell phone purse of any kind, but my girls (all 5 including my lovely wife) think Purse Case is something they'd want for Christmas. That's no surprise – if I had a nickel for every purse in my house, I'd probably have twenty bucks!
Women love to accessorize and cell phones are just one more thing they can dress up. A stylish black clutch for an evening out is in every woman's wardrobe that I know; having a cell phone purse will only make it a more attractive accessory option for a night o the town. I think they'll sell a bunch of these in the show's aftermath and will have a nice little business on their hands.
Purse Case is a great gift for women this Christmas. My two fashionista daughters would love it and my wife would use it once or twice a year when we go to a formal event. My "crafty" daughter is more likely to make her own and the 9-year-old doesn't have a phone. I'm sure women everywhere will think it is a handy item.
Do Sharks Carry a Cell Phone Purse?
The first thing that comes to mind is Lori Grenier. If she thinks a cell phone purse is a hero, she'll chomp away on this business. I don't think she will though because there are dozens of different purses, clutches, and wallets that double as cell phone cases on the market. It's been done and Lori likes to jump on proprietary businesses. Barbara will likely have the same objections.
That leaves the guys. Cuban will think it will be too easy to "knock off" a cell phone purse, so he'll be out. Robert may bite since he probably has a similar amount of purses in his female majority household, but he'll back out too. I don't think Mr. Wonderful will even offer a royalty on this – he'll say something like "you'll get eaten alive."
While the Sharks may not bite, my unscientific survey of the fairer sex tells me Purse Case can expect a lot of interest. Whether that interest converts to sales remains to be seen, but my guess is the Purse Case gals can expect some solid holiday demand for their cell phone purse. While I won't use one myself, I am "IN" for 3 black Purse Cases!