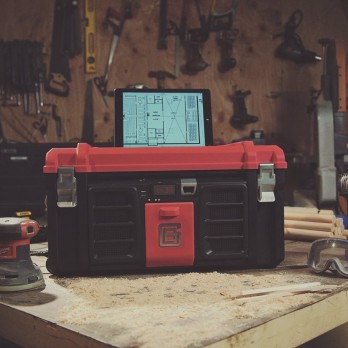 Cool Box inventors Chris Stoikos and Jason Neubauer are serial entrepreneurs who wanted to make a tool box for the 21st Century. Along with co-founder Mike D'Agostini (who doesn't appear on the show), the guys have a lot of construction experience behind them and they got sick of lugging around multiple items to job sites. The Cool Box is a tool box, extension cord, battery, media player, light, smart device charger, and clock all in one handy box. The only thing that's missing is a built-in cooler! They hope the Sharks like the product when the pitch it in Shark Tank episode 728.
Guys (and gals) who either work construction or do a lot of projects around the house will appreciate the efficient storage for their tools and they'll enjoy the added amenities. The product got its start on IndieGoGo, where they raised $370,497 to get production off the ground. Apparently the "crowd" thought this was one cool tool box, too. They should start shipping in May of 2016.
My Take on the Cool Box
I did some framing in the summers and on school vacations while I was in college and I owned a duct cleaning business. Both jobs required toting around a bunch of tools. Fast forward to many years later, and I still own three tool boxes from those days. Along with the injection molded plastic cases for various drills and saws, and I probably have 8 to 10 boxes holding tools in my garage. I don't go mobile with my tools any more, so I wouldn't want a Cool Box for tools.
What I want this product for is a tackle box! I'd love to have built-in lights (for night fishing) and the ability to play some music. Extra power could come in handy, too. The Cool Box would make a great tackle box: there's tons of room for all sorts of gear – even an extra reel or two. I am IN!
Do Sharks think it's cool?
One thing a successful crowdfunding campaign does for a product in the Shark Tank is give proof of concept. If 800 people are willing to plunk down a couple hundred bucks for a product that's still conceptual, there's probably a greater demand. The flip side is, the product hasn't been made yet and there are no "real" sales. That said, proof of concept is a big deal in the Shark Tank.
Unfortunately for entrepreneurs who are still "pre-revenue," the Sharks often exact high equity bids on their business. While I have some opinions on whether Cool Box gets a deal or not, I will refrain from making predictions as I am interviewing Jason before the show airs.