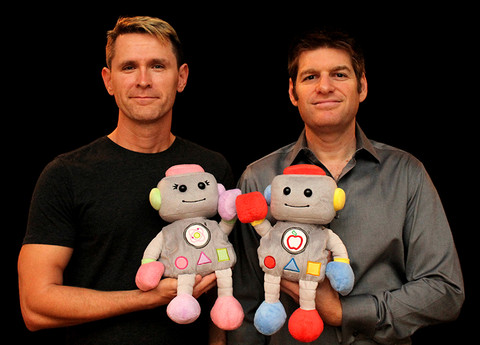 Robots aren't usually associated with plush toys, but entrepreneurs Jeremy Scheinberg and Chris Harden seek to change that with TROBO, their story telling robot. They decided to create TROBO as a cuddly toy that educates kids with an accompanying story telling app. TROBO, through the app, reads STEM related stories to kids with the aspiration of fostering curiosity about the world around them. They pitch their story telling robot to the Shark in episode 728.
STEM learning is fast becoming an educational buzzword inside the Shark Tank and out. STEM curriculum are taking over schools as learning about science, technology, engineering, and math become more emphasized. TROBO aims to get that focus on STEM started at an early age. The story telling robot teaches kids about where lightening comes from, how plumbing works, what sharks eat, how cars work, and much more. Jeremy and Chris are quick to say the product is a plush toy first and an educator second, but the secret sauce to TROBO is the STEM angle.
TROBO costs seventy bucks. The app is free, but additional stories and games cost anywhere from 99 cents to five bucks through in-app purchases. Essentially, it's like buying books about STEM related subjects and displaying them on a tablet.
They got their start with a successful Kickstarter campaign, raising $61K on a $60K goal. After putting another $180K of their own money into the project, they received a Phase 1 SBIR Grant for $150k from the National Science Foundation. With almost $400K into the project, there's a lot at stake; maybe a Shark can up the ante.
My Take on TROBO
With five kids, I've read a lot of stories to children over the years. I believe in reading to kids at an early age and exposing them to new and interesting things. My son always loved fish, so I'd read him stories about fish and teach him about how fish live in the environment. He's graduating college with a degree in Marine Science in May and plans to go on to get an MBA so he can start an aquaculture business. I'd say he was successfully introduced to STEM principles at a young age, even if he STILL hates organic chemistry!
TROBO's mission is bold. While I haven't personally seen any of their stories, I am sure – based on reviews I've read – that they are quality representations of the subject matter presented. I HOPE the stories encourage reading along, because creating sound readers at a young age is tantamount to academic success later on – whether the child pursues a STEM related field of studies or not.
One thing that bothers me is that some parents may use TROBO as a substitute for reading to their children themselves. While providing quality, engaging, and informative educational media is a solid component for learning, nothing can replace the value of reading to a small child. That said, parents can read along with TROBO's stories and, if they're interested, can pick up a copy of Little Robot, Big Dreams: The Highs, Lows, & Lessons Learned of a Toy Startup for their own reading pleasure.
My kids are well beyond the age for TROBO, but I can see this as being a good educational toy for kids. If they were younger, it would probably find its way into the toy box. I'm IN.
Do Sharks Want a Story Telling Robot?
Jeremy and Chris aren't "wantrepreneurs" who felt like starting a toy business. They're engineers with backgrounds in consumer electronics and caring fathers who want quality resources for their children; in short, they're two smart guys with vision. The Sharks will like that. What's going to determine their success in the Shark Tank is sales.
The company started in December, 2013, so it isn't that old. That may mean there are few, if any, sales. The product is readily available now, but that wasn't the case a year ago. TROBO has numerous accolades from the tech media and educational establishment and they are riding the STEM "wave," so sales growth over the last year will have an impact on the Sharks. While a plush toy might be seen as a "one-off product," the continued development of new content is a second revenue stream once the initial purchase is made.
Another tech toy, Cuddletunes, didn't have success in the Tank back in season 4. If you recall, it was a teddy bear that told stories recorded by people close to the child. The Sharks view that product as more of a novelty item. Where TROBO differentiates itself is in the educational component. If the Sharks like that, there could be some offers. The pre-show PR TROBO is doing points to a deal, the question is which Shark?
Mr. Wonderful often makes bids on educational products, touting his Learning Company deal which made him millions. Lori also invested in STEM Center earlier in season seven, so she's pre-disposed to the STEM buzz; plus TROBO makes a good QVC product. I predict a deal for TROBO; this robot is going to have a whole new story to tell after swimming with the Sharks!