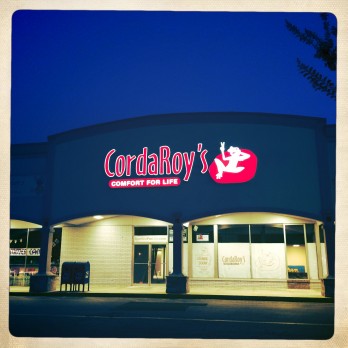 Byron Young spoke with Shark Tank Blog for a CordaRoys update in the immediate aftermath of his original air date. He did a deal with Lori Grenier, who made a $200K investment for 58% of Corda Roys. It's been about two years since Byron taped his segment and a year and a half since he did the deal with Lori on the show. I was in contact with Byron recently and he has more Corda Roys news to share with Shark Tank fans. Byron outlines the business' growth in the post below.
Corda Roys Corporate/Retail Expansion
Corda Roys corporate offices/showroom is expanding from 1600 square feet to 8000 square feet. This will be a "concept" store designed by
Magnum X Design
with the intention of expanding into other markets next year.
The new facility features 10 offices, 2500 square feet of showroom, and a custom design room. Byron will be hiring at least 4 new employees at this location.
Corda Roys @ Mall of America:
Our mall sales also continue to increase and we plan to remodel it to match our new "look" as soon as the corporate location is complete.
Corda Roys Manufacturing Expansion:
We are tripling our capacity in Georgia. We are adding new machinery and purchasing a 90,000 square foot facility "in addition to" our current 37,000 square foot facility. We estimate this will create at least 10 new jobs if not more as well as tripling our manufacturing capacity.
QVC sales: 
No deal with Lori would be complete without getting on to QVC, Corda Roys is no exception. Not only have we sold out and/or surpassed expectations every time we've been on QVC (11 times so far), but now they have placed purchase orders for the rest of the year totaling over 3 million dollars.
Bed Bath and Beyond:
We have now secured this deal with Bed Bath and Beyond and we're expecting some pretty huge numbers.
We are also working with 2 other big box retailers and should have those deals done soon.
Sales:
Before Shark Tank we had $1.5 million in gross sales. As of our Shark Tank update segment (
episode 519
on 4/10/14) we were at 3 million and projecting $5 million for the year.
Now (July, 2014) we are at $7 million in retail sales.
Our goal for 2015 is $20 million.
Now THAT'S a Shark Tank Success Story!
Corda Roys and Lori Greiner are Sleeping the Nation! 🙂