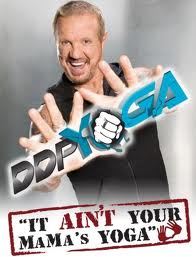 Former professional wrestler and three-time WCW World Heavyweight Champion Diamond Dallas Page hopes to wrestle an investment for his DDP Yoga fitness program from the Sharks in episode 520 on February 21. After rupturing his L4 and L5 discs, Page set out to create a low-impact fitness plan "for athletes like himself who had suffered years of injuries due to high impact sports." As a wrestler, he has a certain amount of bravado and he initially thought yoga was beneath him. Once he experienced the benefits, he spent ten years fine tuning DDP Yoga to promote "body fat loss, lean muscle growth, and improved cardio levels all without placing undue stress on the joints."
Dozens of professional wrestlers use his workouts as well as a host of pro football players and MMA fighters. The best part about DDP Yoga is regular, everyday people can use the workouts too and see amazing results. His most famous student is Arthur Boorman, a Persian Gulf War veteran who weighed 300 pounds and couldn't walk without crutches and leg braces when he started the DDP Yoga program. Arthur lost over 100 pounds while eating right and doing DDP Yoga; he walks without crutches now, too!
A big part of the DDP Yoga program is the inspirational/motivational component. Page, like most pro wrestlers, has a big personality and he channels it into inspiring and motivating people to continue with the program. He has a weekly Podcast that keeps him in touch with his yoga disciples. Nutrition plays a big part in DDP Yoga and Page has a slew of nutritional advice on his website and in the program. He also conducts regular retreats and events where he teaches DDP Yoga live – the most recent ones occur in the UK the first two weeks in March.
Page hopes to train DDP Yoga instructors all over the US, so people can experience the phenomena first hand. If you can't find a class, you can always purchase the program on DVD. What Page has done is take yoga, which most people associate with women, and made it "manly."
My Take on DDP Yoga
I too have a bulging L5 disc in my back and I've been doing yoga-like stretching since 2002. I start my day every day with about 10-15 minutes of stretching. If I didn't do it, I'd be a twisted, aching mess. My wife uses yoga with her swimmers' dry land exercises; she taught me a lot of yoga positions and she helps me out with my stretches. We do yoga together sometimes, too. Yoga is great for building core muscles and, like Page says, it's very low impact.
If I weren't already very familiar with yoga (and I didn't have a cute in-house instructor), this is a workout program that would appeal to me. Like most average schmucks, I don't want to spend a lot of time going to a gym, running all over town, or buying expensive, dust collecting home gym equipment. DDP Yoga offers a series of "workout packs" on DVD that teach the "DDP way" to getting in shape with yoga. They range in price from $49.99 to $89.99 and have exercises rated from "beginner" to "extreme." That's a heck of a lot cheaper than a gym membership or a new Soloflex! I like what Dallas Page is doing – I am "IN."
Does Dallas Page Wrestle an Investment from the Sharks?
The Sharks may do some yoga moves with Page, but they'll want to see if he's moving any DVD's before they give him any cash. He better not pull any "bad guy wrestler" moves, or the Sharks will eat him alive! Seriously, it's going to come down to the numbers and the level of confidence the Sharks have in Dallas Page. There's no doubt the workout system is sound, but is it sound enough for the Sharks?
Mark and Daymond both invested in fitness related businesses in the past, so they may see value if it fills a different market niche. Barbara might like the yoga aspect, but I don't think she'll go for Page's persona. Robert will say he likes everything, but he can't bring value. Mr. Wonderful will undoubtedly try to get a royalty for every pound shed by customers in perpetuity! Page could field some offers, but it's going to come down to how well he presents himself. His wrestling background should help with that; as long as he doesn't pull any "dirty tricks," he has a shot at partnering with a Shark.
Video of Diamond Dallas Page winning the WCW Title for the first time: